The WWW Wednesday meme is currently hosted by Sam @ Taking on a World of Words and is a great way to do a weekly update on what you've been reading and what you have planned.

To take part all you have to do is answer the following three questions:
What are you currently reading?
What did you recently finish reading?
What do you think you'll read next?
---
Currently Reading
I've somehow ended up juggling three books again which never ends well 🙂 The first of these is And the Ocean Was Our Sky by Patrick Ness. I picked this up from the bookshop last week and it is just sooo beautiful I knew I had to start reading it immediately. I'm a big stalker fan of Ness so I've  been anxiously awaiting this story tagged as Moby Dick from the pov of the whale. It is however quite a big book to carry around so I'm only around a third of the way through but so far so good. I just love Ness's writing and the illustrations throughout are beautiful.
The second book I'm reading is Spinning Silver by Naomi Novik. I actually started this ages ago but had put it aside as the format of the ARC I'd received was killing my enjoyment of the story (the writing was tiny). I managed however to get a copy from the library on Monday so I've picked it up again and am enjoying it so much more (as are my eyes). With the break I had slightly lost the plot a little but I'm getting back into it again and all of the threads are starting to come together which is quite exciting. I am loving how there are a lot of fairytale references but it's still pretty unique and quite dark.
I've also started a new audio this week, Dream a Little Dream by Giovanna Fletcher. I think this might be the first contemporary romance I've gotten on audio and it probably wouldn't have been my first choice when I was hunting for something to listen to but I remembered I got an ARC of this from NetGalley 3 years ago and never actually read it or submitted feedback (oops) so thought it would give me the chance to get it off my shelf. I'm currently around 3 hours in and so far I'm finding it okay. Main character Sarah is kind of annoying me (I want to shake her) which is not ideal but hopefully the story will pick up.
---
Recently Finished
The first book finished his week was A Curse So Dark and Lonely by Brigid Kemmerer, which I'd received from Netgalley. It's a retelling of Beauty and the Beast and yep I've read a lot of Beauty and the Beast retellings but this was definitely a stand out read. I did have a little bit of a wobble at the start, it's a bit weird and confusing, but it quickly became an addictive and engaging read. I loved main character Harper and I had a very definite soft spot for Commander of the Guard, Grey. It's way too early for a review but I think it'll be a solid 4.5 stars.
The next book finished was audio book Down Among the Sticks and Bones by Seanan McGuire. This is the second in the Wayward Children series and it's the author herself who does the narration. I did enjoy it, particularly at the start, but I think I preferred the first book. The narrator has a bit of a tendency to talk directly to the reader which is funny at times but I felt like it stopped me from really becoming engaged in the story.
The fact that I couldn't remember the next book I read and just had to go check probably says quite a lot about Three Dark Crowns by Kendare Blake. It's not that it's a particularly bad read, there's just nothing particularly memorable about it. It sets itself up as this big battle to the death between triplets but that doesn't really happen. Instead there are three separate stories about each of the sisters, setting up the world, the magic system and introducing the numerous characters. It's fine, it's interesting, there's some great world building but it feels like not very much happens. I also never really understood the reason why these three 16 year old girls had to murder each other and why it's a generally accepted and encouraged practice.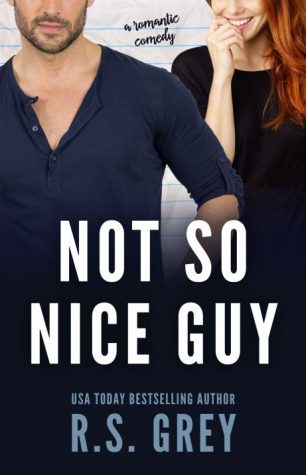 The fourth and final book read was Not So Nice Guy by R.S. Grey. Honestly this has just been lurking on my kindle since it was released and I was in the mood for something light and fun. It really is a great read. It's a friends to lovers story and it's so nice to finally have a romance without angst or obstacles or whatever. I loved the main characters, I loved the school setting, it made me laugh, it made me smile and I just really liked it.
---
Reading Next
I think my reading next pile is pretty much the same as last week's with The Silence of the Girls or Mirage likely to be one of my next reads. I also picked up a copy of City of Ghosts at the bookshop last week so would love to start reading it soon too although I did just get my hands on an ARC of The Towering Sky by Katherine McGee which I've also been anxiously awaiting so we'll see.
Have you read any of the books on my list this week? Any others you'd recommend? As always please feel free to leave comments and links below.
Happy Reading ❤