The WWW Wednesday meme is currently hosted by Sam @ Taking on a World of Words and is a great way to do a weekly update on what you've been reading and what you have planned.

To take part all you have to do is answer the following three questions:
What are you currently reading?
What did you recently finish reading?
What do you think you'll read next?
---
Currently Reading
I started Everything is Lies by Helen Callaghan at the end of last week but had to park it to read a book for book club but now I'm back focused on it again. I loved the author's previous book Dear Amy so I was very happy to be offered an ARC of this. It's a thriller about a woman who discovers her parents after a suspected attempted murder / suicide. She doesn't believe it and begins to dig into their past discovering that there's a lot of things she didn't know about her mother.
I'm around two thirds of the way through this as of this morning and am really enjoying it. Because it is an e-ARC there are some formatting issues (there are sections out of order) which mean I'm losing the flow a bit it's still a really tense and engaging read.
---
Recently Finished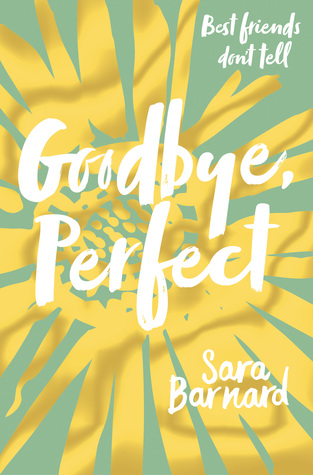 Three books finished this week, the first of which was Goodbye, Perfect by Sara Barnard. As always I loved Barnard's writing and it's a very readable book but I had a general uneasiness about the student teacher relationship featured in the story. Thankfully it's not the MC who gets involved with her teacher (it's her best friend) but I still found it a little bit uncomfortable to read.
I did love the complexity of the characters and I was also very happy to see some under represented characters and issues featured, I just wish there had been a little more focus on them and a little less on that icky relationship.
The second book finished was The Muse by Jessie Burton. This was this month's real life book club book and consequently not one I probably would have picked myself. It does have a very pretty cover and, being the superficial person I am, I was tempted by that but was a little put off by the historical fiction thing.
I did find it a bit of a struggle in the beginning, it's very heavy on descriptions and one character has an odd accent that appears and vanishes but I did find myself becoming sucked in to the story. I wouldn't necessarily say I liked any of the characters but there was something intriguing about it and I am happy I read it.
The third and final book finished this week was La Belle Sauvage by Philip Pullman. I have a physical copy of this but due to lack of time I ended up getting the CD's from the library and listening it to in the car. As a result I think it's taken me almost four weeks to finish it which probably stopped me becoming fully invested in the story. I did like it a lot and Michael Sheen does a brilliant job as narrator but I didn't love it as much as I hoped I would. I didn't fully connect with any of the characters and therefore wasn't really emotionally engaged which for me is necessary for something to be a five star read. Maybe my views would have been different if I'd read it.
---
Reading Next
I found out last Friday that I've won an advance proof of Still Me by Jojo Moyes so I'm ridiculously excited and watching my letterbox for possibly the best book mail ever. If it appears I will be abandoning whatever I'm reading and picking it up immediately. Failing that I think I will probably be looking for a light and fluffy romance. December is unfortunately a super busy month at work for me so I don't think I'll be able to focus on anything more complex. I'm thinking either When It's Real or It Only Happens in the Movies (I have a suspicion the latter may not be that light and fluffy).
Have you read any of the books on my list this week? Any others you'd recommend? As always please feel free to leave comments and links below.
Happy Wednesday Everyone!!!