The theme for this weeks Top Ten Tuesday over at The Broke and the Bookish is top ten bookish settings you'd love to visit. I have to admit I've found this one a bit difficult as I read quite a lot of dystopians and thrillers and who really wants to visit any of the places in those types of books. I was kinda tempted to include The Hunger Games, the food, clothes and hairstyles in the Capital do sound pretty good, but I'm not sure about the entertainment choices.
Anyway, here are 10 places I'd kinda like to see.
---
I have a sneaky suspicion that the wizarding world of Harry Potter might crop up in quite a few posts this week (I could fill the whole top ten with Harry Potter places) so I may as well put it up front. I was a little bit tempted to go with Hogwarts but I think I'm a little too old for school so where I really want to visit is Diagon Alley, otherwise known as shopping heaven.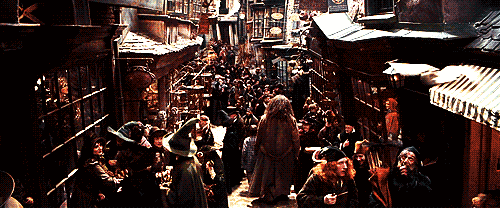 I mean joke shops and owl emporiums sound pretty fun and I do need to go pick a broomstick, some robes for swishing, maybe a wand, a cauldron and some other magical junk. I also really, really want to go to Flourish and Blotts although I suspect I would never leave. And I suppose if I get the munchies I could always nip into the sweetshop or go to the Leaky Cauldron for some butter beer… mmmm.
Space, the final frontier, these are the voyages of the book addict Ali. OK maybe not but a colony on the moon does sound like it would be pretty cool.
I'm not sure it's somewhere I'd want to live (I think it'd be a bit claustrophobic) but would be fun for a visit. I'd like to have a bounce around on the surface of the moon, be able to lift really heavy objects due to low gravity and see the site where Neil Armstrong supposedly took his first steps.
I know they had a few issues with health and safety but I live with a very violent fluffy monster so I'm sure I'd be fine and really what's the worst that could happen…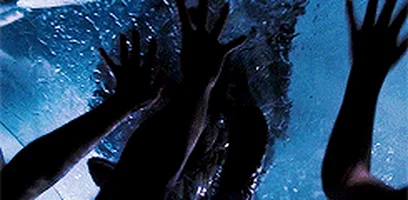 Some of the dino's were pretty cute and from memory of the film the food looked pretty good.
Obviously I'd rather go after it's had a bit of a clean, cos ya know it sounded a bit manky at the start of the book (and I hate cleaning) but I do love the idea of a castle with a door that opens into different places and that just kind of wanders around.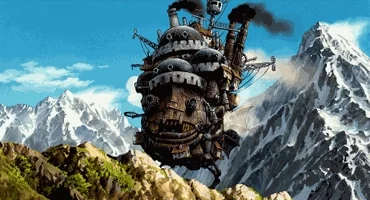 There were also a few health and safety issues at this travelling circus/city and I would not want to go near any acts involving animals (they're cruel) but I would be kinda tempted by the food stalls which sounded amazing (are you spotting a bit of a theme here).
It's a library so of course I want to go for that reason alone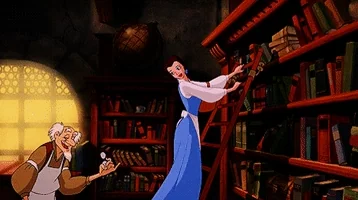 but add to that the fact that time doesn't really pass in the Library (you don't get any older) and you have access to different realities (and their books) and it could be heaven.
Time machine, do I need to say anything else? OK, red panda??? I really, really want to join the crew of the Invictus on one of their thieving adventures or even just on their vacations. They sound like such a fun group and while conditions may be a little bit cramped I don't mind snuggling a red panda.
I don't have a pic so here's a Firefly gif
An actual real place this time (although who's to say the previous ones don't exist), The Metropol Hotel in Moscow is where Count Alexander Rostov is sentenced to house arrest in 1922. It's a grand and luxurious hotel with fine food and drink, shops and with it's proximity to the Kremlin it's frequented by some of the most famous residents and visitors to Moscow. I'm not sure they'd let me in but I wouldn't mind a little bit of luxury and reading this book made me so hungry for the food.
9. The Red Abbey (Maresi by Maria Turtschaninoff)
A little less luxurious than the Metropol hotel, I still kind of like the idea of the island with the Red Abbey. I don't mind mucking in and doing a bit of work and with no men it would be quite good for a proper girly holiday.
Shockingly I have never been to New York but it's somewhere I've always been desperate to visit especially at Christmas. I did have quite a few books to choose from to get me there but I really, really loved the New York from Dash and Lily's Book of Dares. They seemed to go all over and find all of these little hidden gems including what sounds like the most awesome bookshop.
I mean look at that sign, "miles of books" who doesn't want to go. Also you never know, maybe some handsome stranger will have left a notebook for me to find.
---
So that's my 10 bookish settings I want to visit. Would any of these make your list or do you have somewhere even better?
Feel free to leave comments below and links to your own top ten's.