The WWW Wednesday meme is currently hosted by Sam @ Taking on a World of Words and is a great way to do a weekly update on what you've been reading and what you have planned.

To take part all you have to do is answer the following three questions:
What are you currently reading?
What did you recently finish reading?
What do you think you'll read next?
---
Currently Reading

I seem to be juggling two thrillers at the moment which is never a good idea, even if they're both great reads. I struggle to read more than one book at a time (unless one is an audio) and it's particularly bad when they're similar genres. The first,  Twisted by Steve Cavanagh is one I was very happy to receive from the publisher via NetGalley. I've been hearing lots of great things about Cavanagh and have been wanting to read something by him for a while and so far this is living up to expectations. It's definitely twisted and I have no idea where the story is going to go.
The second book I'm reading at the moment is Close to the Edge by Toby Faber. This is an early copy I received from the publisher's publicist so I'm afraid I couldn't track down a cover. I'm reading the pdf version on my phone which isn't the easiest (I keep losing my place) but liking it a lot. I don't think it'll take me long to finish it.
Recently Finished

It's been another week of pretty light reading for me as I've been trying to read my way out of a slump. Despite going right off Tessa Dare last week with A Night to Surrender the first book I finished was actually another of hers, A Week to be Wicked, and I absolutely loved it. It's so light, funny and quirky it had me laughing out loud and unable to stop reading. If you like historical romances I highly recommend.
Next book finished was another romance but this time of the YA contemporary variety. I'd previously watched the film of  To All The Boys I've Loved Before but despite the book being on my kindle for years this was the first chance I'd gotten to read it. I suspect I would have enjoyed it more if I hadn't seen the film but it was an easy enough read and Lara Jean and Peter do make for a very cute couple (fake or not)
Final book this week was In An Absent Dream by Seanan McGuire which I listened to on audio. I love her writing but I'm afraid this was one of the weaker ones in the Wayward Children series for me. It could just have been my mood but I never felt particularly invested in any of the characters and I really wanted a bit more of the humour the previous book had.
Reading Next
I seem to have a heck of a lot of library books on loan at the moment and quite a few reservations I'm expecting to come in in the next couple of weeks so I feel like I should maybe switch to them. Up next I think will be the Binding, Palm Beach Finland and probably Circle of Shadows (don't you just love those covers).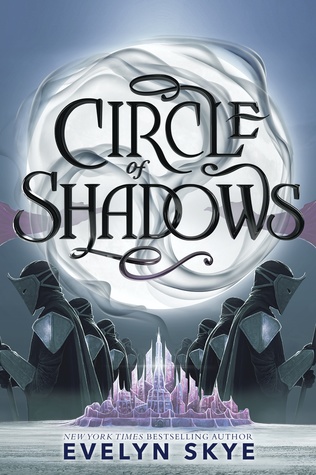 Have you read any of the books on my list this week? Any others you'd recommend? As always please feel free to leave comments and links below.
Happy Reading ❤