The WWW Wednesday meme is currently hosted by Sam @ Taking on a World of Words and is a great way to do a weekly update on what you've been reading and what you have planned.

To take part all you have to do is answer the following three questions:
What are you currently reading?
What did you recently finish reading?
What do you think you'll read next?
---
Currently Reading
I started reading In Bloom by C.J. Skuse on Monday but haven't made a lot of progress as I haven't had much reading time. Skuse is one of my fave authors and I've been looking forward to this one as it's the sequel to Sweetpea which I read and very much enjoyed last year. Hopefully I'll manage to find a bit more time to really get into it.
As well as In Bloom I'm still dipping in and out of Reasons to Stay Alive by Matt Haig and I also picked up Why We Sleep by Matthew P. Walker from the library and have been reading bits of it too. Both are fascinating reads but I do tend to be a little slower with non fiction.
---
Recently Finished
Technically I finished The Kiss Quotient by Helen Hoang last week but as I had it still sitting in my currently reading I think it's fine to put it here this week (plus this section's looking a bit thin). It also gives me another chance to talk about how much I loved this gender switched version of Pretty Woman (I really need to write a proper review at some point). It's just funny, sweet, very enlightening and also one of those books that make you smile. It's not perfect but I found the very few flaws easy to overlook.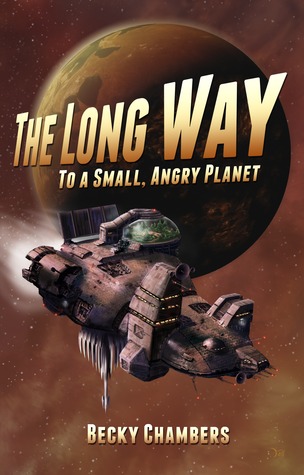 The other book finished this week was The Long Way to a Small Angry Planet by Becky Chambers. I'm going to see Becky Chambers on the 24th so thought it was probably a good idea to read at least one of her books before then 🙂 I have a general wariness of all things sci fi but I ended up absolutely loving this. It reminded me a bit of my fave sci fi TV shows Firefly or Star Trek as it follows a mixed species crew as they make their way across the galaxy on a job. They have a few incidents along the way but I felt this book was less about the story and more about the characters.
---
Reading Next
I kind of want to keep going with the Wayfarers series so I think I'll probably be picking up A Closed and Common Orbit next, I just need to buy it first. I also need to make a start on The Falconer by Elizabeth May and To Kill a Kingdom by Alexandra Christo as there's another author event I'm going to on the 25th where both authors are appearing.
Have you read any of the books on my list this week? Any others you'd recommend? As always please feel free to leave comments and links below.
Happy Reading ❤