The WWW Wednesday meme is currently hosted by Sam @ Taking on a World of Words and is a great way to do a weekly update on what you've been reading and what you have planned.

To take part all you have to do is answer the following three questions:
What are you currently reading?
What did you recently finish reading?
What do you think you'll read next?
---
Currently Reading
Despite literally just posting my Spring TBR a few days ago I've wandered off and picked up The Ghost of Me and You by Kelly Oram which was most definitely not on it. It is however a book I've been wanting to read for quite a while and it just seemed a good fit for right now. It's about a a boy who returns as a ghost to help the girl he loved and the boy who was his best friend to move on. I do really love Oram's writing, it always gets to me and yep I have shed a few tears already (including on a very busy train).
I have to confess I haven't made much progress with The Queens of Innis Lear by Tessa Gratton. While I think I do like the writing (it's very lyrical), I'm finding it incredibly slow going. I spent quite a few hours reading it and only managed to get to 10%, with my kindle telling me there are still 14+ hours remaining. I will go back to it (I think) but I'm really not in the right mood just now.
On audio, I've made more progress with The Sweetest Burn, the second in the Broken Destiny series by Jeaniene Frost. I only have a couple of hours left so should finish it today or tomorrow. It's not been my favorite book by Frost.
---
Recently Finished
The first book finished this week, Deadly Secrets by Robert Bryndza, is probably the main reason why I haven't made much progress with The Queens of Innis Lear. I'm afraid as soon as my NetGalley request for this, the latest in the DCI Erika Foster series, was approved I abandoned everything and started reading it immediately. This is just such a great series and completely addictive reading. It did suffer a bit from me reading straight after The Seven Deaths of Evelyn Hardcastle (which is much more complex and twisty) but I think this is one of my fave books in the series. I just wish they would spend a little longer on editing and proofreading, the little continuity errors drive me nuts.
Second book finished was Sherlock Holmes story, The Sign of Four by Arthur Conan Doyle. Possibly not my fave (it's kinda racist, Holmes takes a lot of cocaine and Watson has the biggest insta love story I've come across) but it's still great to read the original.
The last book read was The Exact Opposite of Okay by Laura Steven which I also received from NetGalley. I have to admit this was a second attempt at this book as the first time I started it I gave up after a couple of chapters. The story is told in the form of a series of blog posts by MC Izzy and I found her a bit extra. She's constantly cracking jokes, using innuendo and is just so confident and extroverted that I found it difficult to connect (she's basically the exact opposite of me). It is however an important book and deals with so many issues in a new way that I do think it's worth reading. Also Izzy kind of grew on me. I'm hoping to get a full review up this week.
---
Reading Next
Next up I think are two books I got from the library, Eliza and her Monsters (which is due back in three days) and Call Me By Your Name (which will be my next audio). I also want to pick up my next couple of galley's Skin Deep and Sam and Ilsa's Last Hurrah.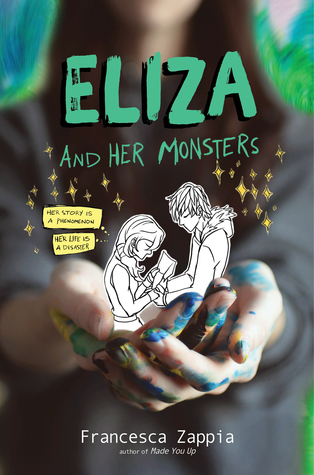 Have you read any of the books on my list this week? Any others you'd recommend? As always please feel free to leave comments and links below.
Happy Reading ❤