It's not feeling particularly spring like here at the moment, we're still getting snow, but the clocks went forward last night so I thought it was about time I posted my Spring TBR.
Despite my bookish resolution at the start of the year to not request more ARCs than I read and review each month I have to admit I have given in to temptation (I blame NetGalley and the publishers and not my lack of shelf control). There are therefore quite a few ARCs on this list, but I'm also determined to finish off a couple of series I've started and maybe read a few of those books I've bought because I've been tempted by a pretty cover. Anyway, without further ado…
---
Thrillers (ARCs)
Liz Nugent's Lying in Wait was one of my favorite books of 2016 and had one of the most deliciously horrid characters I've ever come across so I can't wait to see what she does next. She is famous for her opening lines so I have to admit I've had a sneaky peek and it's brilliant. I'm expecting more morally repugnant characters, doing horrible things to each other
Belinda Baur is another author whose books I've really enjoyed. I'm expecting a fast paced page turner of a read in Snap.
Coincidentally it turns out Snap is endorsed by Sarah Pinborough the author of the wonderfully unexpected Behind Her Eyes and the third book on my list Cross Her Heart. I have my suspicions that this will be another twisty tale, I can't wait.
---
Fantasy (ARCs)
LEGENDARY!!!!! I can't believe I managed to get an ARC of this. I really, really enjoyed Caraval and I've heard that sequel Legendary is even better. It's not out for a couple of months but I keep staring at it on my kindle and will no doubt be starting it very soon.
Ash Princess doesn't necessarily sound the most original of stories (heroine trying to reclaim a throne stolen by an evil tyrant) but I don't care. I love these types of stories and I'm not even put off by rumours of a love triangle
I have actually started The Queens of Innis Lear by Tessa Gratton but have to admit I'm struggling. It's a little on the slow side with a lot of different povs and characters but I'm going to persevere and hope it clicks for me.
---
Contemporary (ARCs)
After a slightly shaky start I'm already around a quarter of the way through The Exact Opposite of Okay and feelings are mixed. I'm loving the main characters voice and attitude but not sure how I feel about some of her actions.
My request for Dear Martin was only approved in the last few days but I am so excited about this one. There does seem to be a lot of buzz around it so fingers crossed it lives up to the hype.
Dash and Lily's Book of Dares is possibly my favorite ever Christmas read and Cohn and Levithan make such a great writing partnership that I couldn't resist their latest offering, Sam and Ilsa's Last Hurrah.
---
Series Reads
Another of my bookish resolutions was to finish off a few of those series I'v kind of stopped midway through but also to knock a few books off my TBR.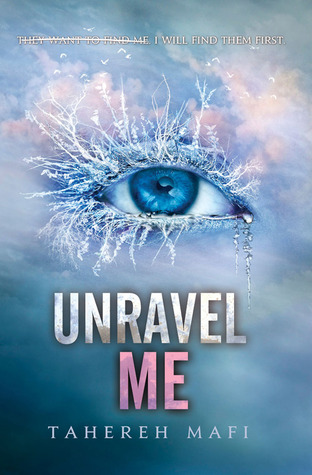 Hero at the Fall by Alwyn Hamilton is the third and final book in the Rebel of the Sands trilogy and it is absolutely ridiculous that I have not read it yet particularly as I've owned it since it was released. I suspect I just don't want it to be over (and I'm scared she'll kill off my fave character)
So I'm very late to the party as far as the Shatter Me series goes, I only read Shatter Me a couple of weeks ago, but I think this is a series I could very easily binge on. As soon as I've made some progress on my NetGalley shelf I think this will be next.
With the release of Obsidio I think it's time I finally picked up Illuminae. I bought physical copies of this and Gemina ages ago but have never gotten around to reading. I am however beginning to fear I'll stumble across spoilers so yep I think the time has come to finally read it.
---
Other
These are pretty much just random books I've picked up in bookshops over the last few months.
I have to admit it was the cover that first drew me to The Wicked Cometh, I have the hardback and it is soooo pretty (I'll need to post some pics on my bookstagram as this doesn't do it justice), but it does sound like a very intriguing and dark story.
Spare and Found Parts was a fairly similar story. I spied it in the bookstore and was tempted by the shiny, pretty thing that it is. I didn't buy it immediately but after seeing some great reviews was back like a shot. It is apparently a modern Frankenstein type story, I am so excited.
It was the hype around the film that drew me to Call Me By Your Name. I haven't seen it yet, I want to read the book first, but it just looks so good. I currently have a hold on the audio for this.
---
So that's my reading plan for the next two or three months. It's looking a little light on the romance front so no doubt I'll add a few of them in and I will be trying to squeeze in a few more from my monster TBR pile but this should certainly keep my busy.
Have you read any of these? Are there any others I should make room for on my list? Any you're particularly excited about?