The WWW Wednesday meme is currently hosted by Sam @ Taking on a World of Words and is a great way to do a weekly update on what you've been reading and what you have planned.

To take part all you have to do is answer the following three questions:
What are you currently reading?
What did you recently finish reading?
What do you think you'll read next?
---
Currently Reading
Yet again I'm a little bit all over the place with my currently reading list and somehow seem to be partway through four books. I am not good at juggling multiple books however so I think my focus is going to be on The Queens of Innis Lear by Tessa Gratton which I received from the publisher via NetGalley. So far I've literally only read the first chapter (well maybe two depending on when you're reading this) so it's a little too early to tell. I had no idea when I requested it that it's a retelling of King Lear (despite the clue in the title). I'm really hoping you don't need to know anything about the play to fully appreciate this as I don't. It's possibly the Shakespeare play I know least about.
The other two books I'm partway through are Northanger Abbey by Jane Austen and Sherlock Holmes story, The Sign of Four. I just kept seeing Northanger Abbey everywhere and it is my fave Austen so I couldn't resist a re read and as for Holmes, I've been slowly working my way through the collection and this one fit a challenge.
On audio I'm still listening to The Sweetest Burn, the second in the Broken Destiny series by Jeaniene Frost. I do love Jeaniene Frost but this book just isn't working for me the way they usually do. The main character is a bit moany, and has a tendency to get a touch hysterical every time someone tries to kill her (which is a lot) so it's getting on my nerves (some people are just total drama queen's honestly!!) I will however persevere to find out how it ends, although I think there may be a book 3 still to come.
---
Recently Finished
Hmm, I thought I'd read more but just checking back and it looks like I've finished three books this week, or really two as I'd technically already finished the first of the three, The Fill-In Boyfriend by Kasie West last week. Given one of the other books finished was PS I Like You I think I can admit to a bit of a Kasie West Reading Fest over the last couple of weeks. They are not the most original plot wise but there's just something completely addictive about them, and they're just such easy and fun reading. I've been tempted to do a bulk review post, rating and ranking them, but my fave so far has to be The Distance Between Us (mostly because of all the creepy doll jokes).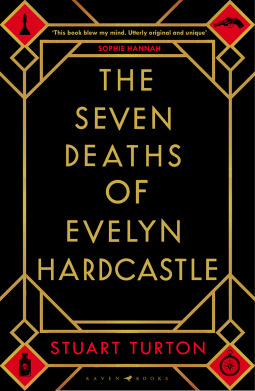 The other book finished this week was The Seven (or 7 ½ if you're in the US) Deaths of Evelyn Hardcastle and boy was this a book and a half. I will be posting a review probably this weekend or early next week but I can say now that it's getting a full five stars. It's like a mix between a classic Agatha Christie murder mystery with some Quantum Leap/Groundhog Day thrown in. I very much liked the writing and how vivid and atmospheric the whole thing was but most of all I loved the complexity and originality of the story. I finished it very late on Sunday night and am still pondering various aspects a few days later. I do wonder though if this is what's making it so difficult for me to start something new.
---
Reading Next
I'm not going to list anything here just now as I'm planning to post my Spring TBR in the next day or two with all of my upcoming reads, including a few ARCs I'm very excited about.
Have you read any of the books on my list this week? Any others you'd recommend? As always please feel free to leave comments and links below.
Happy Reading ❤