The theme for this weeks Top Ten Tuesday over at The Broke and the Bookish is ten books with unique titles. This topic is absolutely perfect for me as I absolutely love weird and quirky books and that starts with the title. I have been known to buy books purely based on a bizarre title or cover. It's a shockingly bad way to pick books but it has led to some brilliant discoveries. Anyway, these are some of the most unusual titles I've come across, some I've read, others are on my TBR.
---
Do you believe in ghosts? Do we really live on in some conscious form after we die, and is that form capable of communicating with the world of the living?…Aye, right. 
That was Jack Parlabane's stance on the matter, anyway. But this was before he found himself in the more compromising position of being not only dead himself, but worse: dead with an exclusive still to file.
From his position on high, Parlabane relates the events leading up to his demise, largely concerning the efforts of charismatic psychic Gabriel Lafayette to reconcile the scientific with the spiritual by submitting to controlled laboratory tests. Parlabane is brought in as an observer, due to his capacities as both a sceptic and an expert on deception, but he soon finds his certainties crumbling and his assumptions turned upside down as he encounters phenomena for which he can deduce no rational explanation. Perhaps, in a world in which he can find himself elected rector of an esteemed Scottish university, anything truly is possible.
One thing he knows for certain, however: Death is not the end – it's the ultimate undercover assignment.
I could have filled the whole top ten with books by Chris Brookmyre (I haven't, in case you're worried) as all of his earlier books had very unusual titles. This is book five in the Jack Parlabane series and is probably the last one before the titles became kinda boring (Black Widow, Want You Gone). I miss his older books but I get the feeling the odd titles were putting people off, particularly outwith the UK.
From the author of Our Chemical Hearts comes the hilarious, reality-bending tale of two outsiders facing their greatest fears about life and love one debilitating phobia at a time.
Ever since Esther Solar's grandfather was cursed by Death, everyone in her family has been doomed to suffer one great fear in their lifetime. Esther's father is agoraphobic and hasn't left the basement in six years, her twin brother can t be in the dark without a light on, and her mother is terrified of bad luck.
The Solars are consumed by their fears and, according to the legend of the curse, destined to die from them. 
Esther doesn't know what her great fear is yet (nor does she want to), a feat achieved by avoiding pretty much everything. Elevators, small spaces, and crowds are all off-limits. So are haircuts, spiders, dolls, mirrors and three dozen other phobias she keeps a record of in her semi-definitive list of worst nightmares. 
Then Esther is pickpocketed by Jonah Smallwood, an old elementary school classmate. Along with her phone, money and a fruit roll-up she d been saving, Jonah also steals her list of fears. Despite the theft, Esther and Jonah become friends, and he sets a challenge for them: in an effort to break the curse that has crippled her family, they will meet every Sunday of senior year to work their way through the list, facing one terrifying fear at a time, including one that Esther hadn't counted on: love.
This is one of the books I picked based on the cover (there's a lobster, a lobster!!!) and a title that's a little different. As it turns out the whole book is a little bit different but absolutely brilliant. It's all about dealing with anxiety and other issues. The way it's written is a bit quirky but it's actually one of the most realistic portrayals I've come across. There's definitely a lot to relate to.
Louis de Bernières's sardonic pen has concocted a spicy olla podrida of a novel, set in a fictitious Latin American country, with all the tragedy, ribaldry, and humor Bernières can muster from a debauched military, a clueless oligarchy, and an unconventional band of guerrillas. There's a plague of laughing, a flood of magical cats, and a torture-happy colonel. The cities, villages, politics, and discourse are an inspired amalgam of Latin Americana, but the comedy, horror, adventure, and vibrant individuals are pure de Bernières.
This masterpiece, the first of a trilogy, is followed by Señor Vivo and the Coca Lord, and The Troublesome Offspring of Cardinal Guzman.
It's been a long time since I read this, I went on a de Bernieres spree after reading Captain Corelli's Mandolin, but from memory it was an enjoyable read. Like all of his books there were some long waffly bits that I'm pretty sure I skimmed over but other parts I loved. My favorite book in the trilogy is however Senor Vivo and the Coca Lord. It has a much more interesting story.
The Ragged Trousered Philanthropists tells the story of a group of working men who are joined one day by Owen, a journeyman-prophet with a vision of a just society. Owen's spirited attacks on the greed and dishonesty of the capitalist system rouse his fellow men from their political quietism. The Ragged Trousered Philanthropists is both a masterpiece of wit and political passion and one of the most authentic novels of English working class life ever written
I'm supposed to be reading this right now for my real life book club but so far I haven't made it past the prelude. I suspect the title is the most interesting thing about this book as that blurb really doesn't appeal. I was having a very funny chat on Friday with another member of the club who's made it to 20% and absolutely hates it. It's written the way the working class apparently spoke so the spelling is interesting to say the least. H's seem to be dropped from words they should be in and added to words beginning with a vowel.
Renée is the concierge of a grand Parisian apartment building, home to members of the great and the good. Over the years she has maintained her carefully constructed persona as someone reliable but totally uncultivated, in keeping, she feels, with society's expectations of what a concierge should be. But beneath this facade lies the real Renée passionate about culture and the arts, and more knowledgeable in many ways than her employers with their outwardly successful but emotionally void lives. 
Down in her lodge, apart from weekly visits by her one friend Manuela, Renée lives resigned to her lonely lot with only her cat for company. Meanwhile, several floors up, twelve-year-old Paloma Josse is determined to avoid the pampered and vacuous future laid out for her, and decides to end her life on her thirteenth birthday. But unknown to them both, the sudden death of one of their privileged neighbours will dramatically alter their lives forever. 
Another real life book club book and another book I was not a fan of. It was funny watching the library assistant's face when I asked if I could reserve a copy of this (I think she asked me the title three times) but that was pretty much all I liked about it. Far too heavy on philosophy and too light on action for me. Plus the whole 12 year old planning her suicide storyline really annoyed me.
Oz Wimbly is fat, slow, has a huge nose and is an easy target for the bullies of his school. One day Oz gets a letter, he has been drafted into the 'Elephant Rebellion.' Oz is whisked off to Fort Loxo, located in a galaxy far from ours, and learns he is an elephant that has been hidden on Earth. Oz, along with a fledgling cast of other kid elephants, tries to survive ten weeks of Basic Training. But Oz soon finds out the grueling hours of PT, the obstacle courses, the krams, the Top Trunk tournament, and the thousands of push-ups are preparing them for battle. Ten of them will be chosen for the most dangerous mission ever attempted by the Rebellion. To retrieve the Firestones. And possibly win back their planet. And it might all just be up to Oz. 
I love Nick Pirog, his books are always full of humor and have that something a little bit out there about them. They shouldn't work but somehow they do. I have to confess this is the only book of his I haven't read but it's definitely on my TBR.
7 Eleanor Oliphant is Completely Fine by Gail Honeyman
Eleanor Oliphant has learned how to survive – but not how to live
Eleanor Oliphant leads a simple life. She wears the same clothes to work every day, eats the same meal deal for lunch every day and buys the same two bottles of vodka to drink every weekend.
Eleanor Oliphant is happy. Nothing is missing from her carefully timetabled life. Except, sometimes, everything.
One simple act of kindness is about to shatter the walls Eleanor has built around herself. Now she must learn how to navigate the world that everyone else seems to take for granted – while searching for the courage to face the dark corners she's avoided all her life.
Change can be good. Change can be bad. But surely any change is better than… fine?
From elephants to an Oliphant. I love this book sooo much I had to put it on the list. The title is maybe not that unique at the moment, there seem to be a lot of people who are fine or not OK but her name is pretty unique so I'm sneaking it in.
A girl may have to kiss some frogs before she finds her Prince Charming, but Marigold has found herself a real toad. On her way to becoming a prima ballerina, she is bent over backwards – literally – working her way to the top. But a painful fall sends her limping back home, where an old friend is ready to sweep her off her feet.
OK yeah there are quite a few Girl's Guides around at the moment but are they about kissing frogs? This is another one I'm sneaking onto the list because I love it so much. It is pretty much just a romance and not a lot happens but there are some very eccentric characters, some ballet dancing, a whole gothic castle type bit and a lot of commentary on class, manners and education.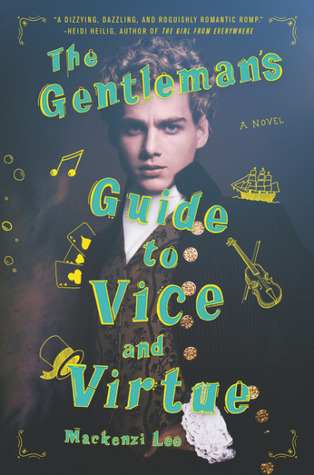 Henry "Monty" Montague was born and bred to be a gentleman, but he was never one to be tamed. The finest boarding schools in England and the constant disapproval of his father haven't been able to curb any of his roguish passions—not for gambling halls, late nights spent with a bottle of spirits, or waking up in the arms of women or men.
But as Monty embarks on his Grand Tour of Europe, his quest for a life filled with pleasure and vice is in danger of coming to an end. Not only does his father expect him to take over the family's estate upon his return, but Monty is also nursing an impossible crush on his best friend and traveling companion, Percy.
Still it isn't in Monty's nature to give up. Even with his younger sister, Felicity, in tow, he vows to make this yearlong escapade one last hedonistic hurrah and flirt with Percy from Paris to Rome. But when one of Monty's reckless decisions turns their trip abroad into a harrowing manhunt that spans across Europe, it calls into question everything he knows, including his relationship with the boy he adores.
I suppose if girls are getting guides it's only fair that gentlemen get one too 🙂 I haven't read this yet but I really, really want to it's just sooo expensive and I have lots of books I haven't read so can't justify buying it. Unless y'all tell me it's brilliant and a masterpiece and then I'll have to buy it.
10 The Knife of Never Letting Go by Patrick Ness
Todd Hewitt is the only boy in a town of men. Ever since the settlers were infected with the Noise germ, Todd can hear everything the men think, and they hear everything he thinks. Todd is just a month away from becoming a man, but in the midst of the cacophony, he knows that the town is hiding something from him — something so awful Todd is forced to flee with only his dog, whose simple, loyal voice he hears too. With hostile men from the town in pursuit, the two stumble upon a strange and eerily silent creature: a girl. Who is she? Why wasn't she killed by the germ like all the females on New World? Propelled by Todd's gritty narration, readers are in for a white-knuckle journey in which a boy on the cusp of manhood must unlearn everything he knows in order to figure out who he truly is.
Another book I absolutely love and adore and would marry and have its babies if I could. I have however only read it once as it's far too much of an emotional rollercoaster to read again.
---
So that's my top ten books with unique titles. Have you read any of these or have I tempted you to pick them up? What's the most unique title you've come across?
Feel free to leave comments below and links to your own top ten's.