The WWW Wednesday meme is currently hosted by Sam @ Taking on a World of Words and is a great way to do a weekly update on what you've been reading and what you have planned.

To take part all you have to do is answer the following three questions:
What are you currently reading?
What did you recently finish reading?
What do you think you'll read next?
---
Currently Reading
I haven't been able to focus on anything much this week so I'm not really reading anything right now. I am however still listening to Eleanor Oliphant is Completely Fine by Gail Honeyman. This is the pick for this week's real life book club which meets tomorrow so I'm no doubt going to be listening to it at every possible opportunity to get it finished in time. I haven't been a fan of many of the book club picks so far but I am absolutely loving this one. It's just so funny and clever and a little bit sad. I can't wait to find out how it ends.
---
Recently Finished
I've been a little bit all over the place for the last week as I'm getting the bathroom and boiler in my one bed flat replaced. I've had to spend quite a bit of time tidying and cleaning and am currently living in box city and stressed out of my mind (I assume anything that can go wrong will go wrong). I have however managed to finish two books.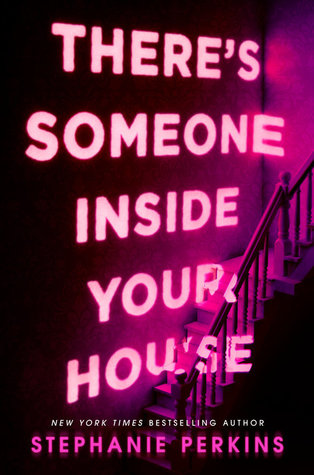 The first of these was YA horror There's Someone Inside Your House by Stephanie Perkins. Perkins is probably better known for her cute contemporary romances so I had my doubts over whether she could pull off horror but actually I think this was more or less a success. It is pretty heavy on contemporary romance (there's a lot of kissing and …) and it's not particularly scary, it's much more gory, slasher than creepy or spooky but I did enjoy it. There's plenty of diversity which is always great and while there are a few faults with the horror side of story the rest is good.
The second book finished, The Red Ribbon by Lucy Adlington, was also horrifying in a very different way. It's the story of a teenage girl Ella and her time spent in Auschwitz. She manages to find work as a dressmaker but her future and her survival depends on whether she can continue to produce beautiful outfits for the guards. I have to admit that while I've heard many stories about Auschwitz this was completely new to me. I'd no idea they used the prisoners to make fancy clothes.
This was a really engaging read but I didn't love it as much as I thought I would. I just didn't quite connect to it. I do think it's an important story that needs to be told but I didn't feel it.
---
Reading Next
Due to my current stress levels I'm kind of tempted to ditch my TBR and just read whatever the heck I want. I do however want to try and get to Invictus and Cold Blood at some point.
Have you read any of the books on my list this week? Any others you'd recommend? As always please feel free to leave comments and links below.
Happy Wednesday Everyone!!!