The WWW Wednesday meme is currently hosted by Sam @ Taking on a World of Words and is a great way to do a weekly update on what you've been reading and what you have planned.

To take part all you have to do is answer the following three questions:
What are you currently reading?
What did you recently finish reading?
What do you think you'll read next?
Before I go into this weeks list I need to apologize for last weeks post as I've literally just realized the formatting was weird (I have no idea how that slipped through). Hopefully I won't be doing the same this time 🙂
---
Currently Reading
I started reading Strange the Dreamer by Laini Taylor very early on Monday morning (1am) but so far haven't made a lot of progress on it. I have this week off work so I have been forcing myself to put the book down and get my life and house sorted out 🙂 It won't last though, I'm sure I'll be back to book obsessed with a house falling down around me very soon.
What I have read so far has been really good and I can definitely see this being a series to obsess over.
---
Recently Finished
First book finished this week was Thirteen Reasons Why by Jay Asher which I received from NetGalley. I'd already watched the show before I started reading it but while I do wish I'd done things the other way around I definitely got something different from reading the book. I couldn't help but imagine the actors as the characters and the show has a lot more in it but the format of the novel is very unique and the characters didn't feel quite the same. I should have a full review up this week.
The second book finished was Release by Patrick Ness which seemed to take me forever for some reason. It's not a particularly hard read and was a book I was very excited about but while the writing was as always wonderful it wasn't my favorite Ness book. All of his books are very different but if I were to compare I'd say it's probably most like The Rest of Us Just Live Here as it's mostly a YA contemporary with some fantasy as a secondary story. It is very well written and there were moments I loved but I don't think I was the right audience for it. You can read my full review here.
My YA fest continued with my next book read, Nemesis by Brendan Reichs. This is a YA Sci Fi story about a girl Min who every two years on her birthday is murdered by a man in a suit and sunglasses. As you can probably tell just from that it has a really fantastic and unique premise. It was very different from anything I'd read before, although in fairness I don't read a lot of sci fi. I really liked the story which was packed full of twists and turns but felt like it was missing the feels. My review has more details.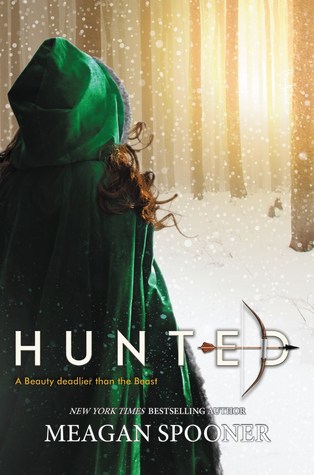 The final book (also YA) finished this week, Hunted by Meagan Spooner, was a retelling of Beauty and the Beast. I really love retellings and this is definitely one of the best ones I've come across. It sticks pretty close to the original but moves the setting to Medieval Russia and turns our heroine into a hunter out for vengeance. I actually started this as an audio but found it too slow going so ended up switching to the book (both of which I got on Overdrive) and reading the majority in a morning, I literally couldn't put it down. Here's my full review
---
Reading Next
Given all of my recent YA reads I think I need something a bit more old adult. I have RL book club next week so I should really be making a start on this months pick His Kidnapper's Shoes by Maggie James. I'd also like to continue my good work getting my NetGalley shelf down so would like to pick up either The Bed and Breakfast on the Beach or The Devil's Colony.
Have you read any of the books above or have any other book you'd recommend? Leave comments and links below and I'll respond when I can.
Happy Wednesday Everyone!!!