The WWW Wednesday meme is currently hosted by Sam @ Taking on a World of Words and is a great way to do a weekly update on what you've been reading and what you have planned.

To take part all you have to do is answer the following three questions:
What are you currently reading?
What did you recently finish reading?
What do you think you'll read next?
---
Currently Reading
I started reading Thirteen Reasons Why by Jay Asher on Monday and I'm already around half way through. I watched the TV show a month or so ago and found it really engaging (I want to say I enjoyed it but it's quite heavy so that's not really the right word). I already had it on my want to read list but the show definitely made me want to read it even more so I was very happy to receive it from NetGalley.
It's strange reading the book so close to watching the show as you can't help but imagine the actors as the characters and comparing the two. There are a few differences but even though I loved the show I'm still very much enjoying (argh!! I need to find another word) the book.
No progress on Release by Patrick Ness this week unfortunately. I really need to get back into it.
---
Recently Finished
First book finished this week was A Gentleman in Moscow by Amor Towles. I received this from NetGalley and read it as part of a group read on GoodReads. It was a little outwith my usual reading comfort zone but I absolutely loved it. It's begins in the 1920s in Moscow with a man being ordered to spend the rest of his life inside a luxury hotel. It's quite a slow story but it's beautifully written with some fascinating characters and many touching and funny moments. You can read my full review here.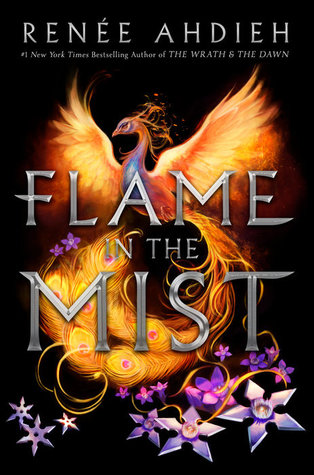 The other book finished this week was Flame in the Mist by Renee Ahdieh. This was also from NetGalley (I'm slowly making progress getting my shelf down) but I also got a hardback copy as well. I liked this book a lot and pretty much read the whole thing in one sitting. It's my first book from this author and her writing style definitely suits me. I loved the story and the feudal Japan elements but it was a little too similar to other YA fantasy stories to be a standout read. My review should be up soon.
---
Reading Next
Unbelievably I've actually read or am reading all of the books on last weeks reading next list so I need some new ones. I also have a week off work so will hopefully have plenty of reading time. I'll no doubt wait and see what I'm in the mood for but likely I'll make a start on one or more of the following:
Have you read any of the books above or have any other book you'd recommend? Leave comments and links below and I'll respond when I can.
Happy Wednesday Everyone!!!