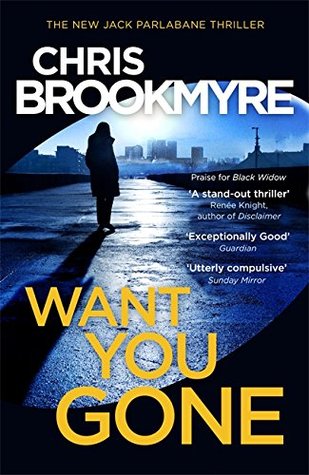 Title: Want You Gone
Author: Chris Brookmyre
Release Date: 20th April 2017
My Rating: 4.5 of 5 Stars
I'm so excited to be part of the blog tour for Want You Gone, the latest in Chris Brookmyre's Jack Parlabane series.
He's one of my favourite authors and yet again he's written a cracking thriller, this time involving hacking, corporate espionage and fraud. If you're looking for an intelligent and fast paced story with lots of twists and turns this is definitely a book I'd recommend.
---
Blurb
What if all your secrets were put online?
Sam Morpeth is growing up way too fast, left to fend for a younger sister with learning difficulties when their mother goes to prison and watching her dreams of university evaporate. But Sam learns what it is to be truly powerless when a stranger begins to blackmail her online, drawing her into a trap she may not escape alive.
Who would you turn to?
Meanwhile, reporter Jack Parlabane has finally got his career back on track, but his success has left him indebted to a volatile source on the wrong side of the law. Now that debt is being called in, and it could cost him everything.

What would you be capable of?
Thrown together by a mutual enemy, Sam and Jack are about to discover they have more in common than they realise – and might be each other's only hope
---
My Review
Jack's back!!! I was so excited to receive a copy of this book from NetGalley and even more excited to be invited to participate in the blog tour. Chris Brookmyre has been one of my favourite authors for many years so I knew I would love it before I'd read anything about it and I wasn't wrong.
This is the 8th book in the Jack Parlabane series but could easily be read as a standalone if you haven't picked up any of the previous books. Each book tends to have a different theme and this time it's venturing into the world of cyber crime, hacking and industrial espionage.
The story begins with Jack finally starting to get his life back on track after the mistakes of his past with the opportunity for a new start in a new job as an investigative reporter for an online news site. This is the chance he needs to restore his reputation but to get it he has to reach out to a shady contact from his past who can give him an exclusive insight into the attack on a major bank by a group of hackers. However, while "friends don't keep score" this old contact is definitely looking for something in return.
Meanwhile in a story that seems initially unrelated, teenager Sam Morpeth is struggling. Her mum is in jail and she has been left to look after her younger sister who has learning difficulties. Her benefits have been cut, so she's forced to drop out of school and get a job to make ends meet which seems bad enough but then someone begins blackmailing her online. Having heard of Jack through his article on the bank attack she contacts him and uses her knowledge of his relationship with the hackers to coerce him into helping her meet the demands of her blackmailer and track him down.
The story is told in more or less alternating chapters from both Sam and Jack's point of view and it was great to see the different perspectives. It was particularly fantastic to have Jack take on a more significant role this time. I kind of felt like in the previous book in the series, Black Widow, he took a little bit of a back seat but this time he's definitely front and centre which I loved as he's such a brilliant character. He's a cynical (disappointed idealist?), slightly jaded but witty and quick thinking investigative journalist who's trying to put the past behind him and make a new start. He's a lot more mature than in previous books but still struggles to ignore that little voice that takes him down dangerous and risky paths which do not always work out for him but certainly make the story more interesting.
Sam brought a fresh new perspective to the story and was a fascinating character to read. She's almost two different people. She's a downtrodden, self conscious, victim in real life but online she's confident, persuasive and able to get almost anything she wants. I felt sorry and frustrated on her behalf at times and at others she completely shocked me.
I absolutely loved the dynamic between Sam and Jack. He thinks of himself as quite a modern man but Sam definitely surprises him and makes him realise he may have more preconceptions and more to learn than he thought (I clearly do too). They come from such different places that at first their partnership is forced, awkward and full of distrust but eventually they begin to realise they may have more in common than they first thought. Some of the best scenes in the books are when they are working together and discover just how much they have in common and how much they can learn from the other.
The story is not as fast paced as some of the others I have read, particularly in the beginning but it builds nicely so that by the mid point I struggled to put it down. As always Brookmyre's writing is brilliant. You can always tell that his stories are well thought out and there's a lot of detail in them that shows he's really done his homework and knows what he's talking about. It's a complicated plot with lots of twists, deceptions and a fantastic heist storyline but, while it does get a bit techie around IT systems and hacking in places, the writing is such that it doesn't feel that way. I have a tendency to switch off or start to skim when books get a little too descriptive or technical but that never happened once.  
The author also manages to weave in his usual social and political commentary which makes the story feel very current. There's the odd pop at the banks, large corporations, the benefit system and the government but for me this book felt very much about the perceived disconnect between the online world (and social media) and real life. People seems to post all kinds of information about themselves online for anyone to see and it's frightening at times to think what the wrong person could do with that kind of knowledge. The story also illustrated just how different an online persona can be from someone in real life, "there are no girls on the internet", and that while the online world may not feel real, what you do there can have very real consequences. Something those who troll should really think about.
Overall, this is a first rate thriller. It's a compelling and well thought out read with lots of twists. I'd definitely recommend particularly if you're looking for an Ocean's Eleven style heist story.
Thanks to the publisher Little Brown Book Group and NetGalley for providing me with an advance copy and special thanks to Grace Vincent for inviting me to take part in the tour. As always all views are my own.
Note: For readers in the U.S. this book is being released under the title "The Last Hack" in July.
---
Tour Dates
The tour continues until 6th May so if you want to read more you can go visit these blogs.