The WWW Wednesday meme is currently hosted by Sam @ Taking on a World of Words and is a great way to do a weekly update on what you've been reading and what you have planned.

To take part all you have to do is answer the following three questions:
What are you currently reading?
What did you recently finish reading?
What do you think you'll read next?
---
Currently Reading
I've finally started Last Breath by Robert Bryndza, woohoo!! This is the fourth in his Detective Erika Foster series and a book I've been looking forward to since finishing the previous one in the series.
Very early days, I'm only a few chapters in but so far so good and I've seen some incredible reviews for it so I have high hopes.
---
Recently Finished
First book finished this week was The Cornish Escape by Lily Graham which I received from NetGalley. The story is about a woman who, after her husband admits to having an affair, escapes to a village on the Cornish coast. While out for a walk one day she discovers a derelict cottage hidden away near the cliffs. Curious about it and all of the local rumours about a curse she begins to dig into its past.
This was somewhat different from the light and fluffy romance I was expecting but I really enjoyed the mystery around the cottage. My biggest gripe was the ending which left me feeling very frustrated. You can read my full review here.
The second book finished this week was Saint Death by Marcus Sedgwick, which was another NetGalley pick. It's about two guys who live near the Mexico/America border and end up on the bad side of one of the gangs. They have 36 hours to find a lot of money or they'll likely end up dead.
Have to admit to having very mixed views on this one. For the most part I liked the story, the writing was good and there are some brilliant scenes but I found the whole thing a little slow and difficult to focus on. It's not the easiest of topics to read but is probably worth sticking with. Review should be up later this week.
---
Reading Next
OK I have to confess that last week I got distracted by 13 Reasons Why on Netflix (watch it if you get a chance) but this week I'm hoping to get a bit more reading in particularly over the Easter weekend. Next up from the NetGalley shelf will most likely be Want You Gone by Chris Brookmyre and A Dark so Deadly by Stuart MacBride (my two favourite Scottish crime authors). I also have Strange the Dreamer by Laini Taylor so I'm still hoping to squeeze it in somewhere.
In other news I discovered a new real life book club the pick for which is Anatomy of a Soldier by Harry Parker. Initially when I heard it was a story told by a series of objects I kind of thought "oh no!!!" but having listened to a bit of the audio I'm actually kind of excited about it. I managed to get a copy of the book from the library but I'm thinking I may try and get the audio instead.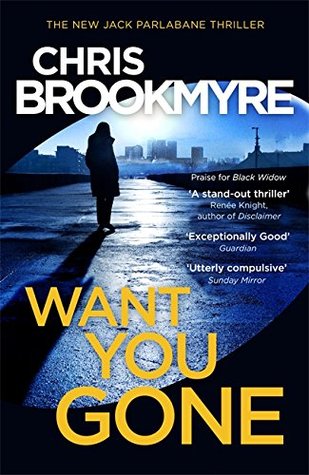 Have you read any of the books above or have any other book you'd recommend? Leave comments and links below and I'll respond when I can.
Happy Wednesday Everyone!!!