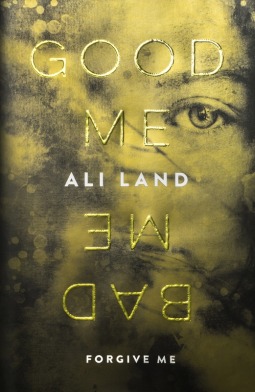 A compelling and occasionally disturbing read, I found myself unable to put it down. It's rare for me to find a psychological thriller I enjoy but I loved this. Truly chilling.
---
Synopsis (from GoodReads)
'NEW N A M E .
NEW F A M I L Y.
S H I N Y.
NEW.
ME . '

Annie's mother is a serial killer.

The only way she can make it stop is to hand her in to the police.

But out of sight is not out of mind.

As her mother's trial looms, the secrets of her past won't let Annie sleep, even with a new foster family and name – Milly.

A fresh start. Now, surely, she can be whoever she wants to be.

But Milly's mother is a serial killer. And blood is thicker than water.

Good me, bad me.

She is, after all, her mother's daughter…
---
Thoughts
"The brain of a psychopath is different from most, I've weighed up my chances. Eighty percent genetics, twenty percent environment. Me. One hundred percent f*cked"
Would you invite the child of a serial killer into your life, into your family's? Is it fair to judge someone for the actions of their parent? Do you think you should keep their background a secret to protect them or should you warn people so they can be on their guard?
These were all questions I found myself considering as I read this dark and chilling psychological thriller by Ali Land. It's a gripping and addictive story that I found myself reading late into the night, scared to keep going but unable to put down. I felt so much sympathy for this 15 year old girl who had been so horrifically let down and abused by her mother but every so often there were these sudden chilling moments where I found myself wondering just what she could be capable of (and what involvement she'd had in her mother's crimes).
The author shows real skill in keeping the tension throughout the story and also in creating such a distinctive character and voice in Milly (aka Annie) our narrator. For the most part Milly comes across as scared, quiet and unsure and generally just someone who wants the love and friendship she didn't get from life with her mother. Every so often however there is this glimpse of something off about her, an inner strength and lack of fear but also a coldness and a lack of empathy for others. There are scenes that make for some seriously uncomfortable reading and a couple of occasions where I wasn't sure I wanted to continue it was so disturbing, which sounds bad but to me is actually the mark of a great thriller.
The one and only criticism I have of this book, and the reason for knocking off that half star, is that occasionally I found the writing style and sentence structure a little bit off putting.
This is a book with a lot of hype around it, to quote the blurb "One of the most extraordinary, controversial and explosive debuts of 2017", which is something I'm generally quite suspicious of but honestly in this case I think it's definitely a book worthy of hype. I'm often let down by thrillers with a lot of hype (I didn't like the Girl on the Train) but I doubt many will be let down by this. Read it.
Thanks to NetGalley and the publisher for providing me with an ARC in exchange for an honest review. It's released on the 12th January.