The WWW Wednesday meme is currently hosted by Sam @ Taking on a World of Words and is a great way to do a weekly update on what you've been reading and what you have planned.

To take part all you have to do is answer the following three questions:
What are you currently reading?
What did you recently finish reading?
What do you think you'll read next?
Here's this weeks WWW.
---
Currently Reading
Yet again I'm not really reading anything at the moment, there must be something about Tuesdays (I always write this post the night before). I am however planning to start The Bear and the Nightingale by Katherine Arden which I received from NetGalley but haven't had a chance to read as yet. I have to admit that I requested this partly due to the cover which is stunning and also because I heard the words "draws on Russian fairytales". I absolutely love fairytale type books. I can't say too much about it yet but it's definitely a book I have high hopes for.
On audio, I've started listening to The Hunger Games and am really enjoying it. I've obviously read it before and have watched the films more than once but I'd kind of forgotten the details from the book. I did find the narrator a bit irritating at the start, she sounds like someone around my age who's smoked 60 a day rather than a teenage girl but I'm getting used to it, although I still can't stand her Peeta voice.
---
Recently Finished
I honestly don't know what I've been doing for the past week as, despite hardly moving from the house, I seem to have read very little and absolutely none of the books I had on my reading next list from last week.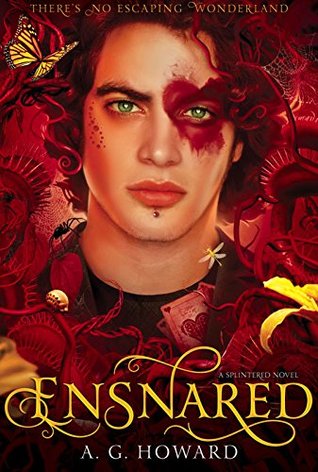 I am however very happy to report that I did read Ensnared, the third and final book in the Splintered series. The Splintered series is a modern day take on Alice in Wonderland with one of Alice's descendants being sucked back into Wonderland.
I was mostly happy to read this because it finished off the series and I wanted to know how it would all end but it is quite a good read. There was a lot more action than in the previous book (which was mostly filler) but be warned there is one of the most annoying love triangles ever. I also wasn't entirely convinced by the ending.
The second book finished, The One Memory of Flora Banks by Emily Barr, is probably my favorite book of the year so far. I know it's only the 4th of January but I suspect it will remain a favorite as I still keep picking it up and reading little bits. It's one of those books that just makes you smile.
I received it from NetGalley and it's about a seventeen year old girl who suffers from amnesia. She can only hold onto a memory for a couple of hours and then it's gone. Then one night she kisses a boy on the beach and the memory sticks. Thinking he could be the cure for her amnesia she follows him to the Arctic. It's a little bit nuts, kinda funny and also sad in places but I found it completely addictive. You can read my full 5 star review here.
---
Reading Next
Unfortunately I'm now back at work 😦 so I have a lot less time for reading and will need to switch back to ebooks as physical books are just too awkward to carry around. I've also realized that quite a few of the ARCs I have are due for release so I really need to get reading. I think my next reads will therefore by A Quiet Kind of Thunder  and Behind Her Eyes. I also managed to get Proxy by Alex London from the library on Overdrive so I may sneak that in somewhere too.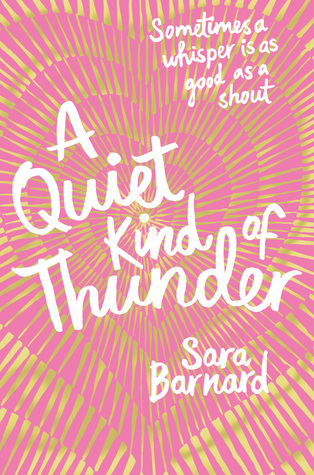 Have you read any of the books above or have any other book you'd recommend? Leave comments and links below.
Happy Wednesday everyone.