The WWW Wednesdays meme is currently hosted by Sam @ Taking on a World of Words and is a great way to do a weekly update on what you've been reading and what you have planned.

To take part all you have to do is answer the following three questions:
What are you currently reading?
What did you recently finish reading?
What do you think you'll read next?
Here's this weeks WWW.
---
Currently Reading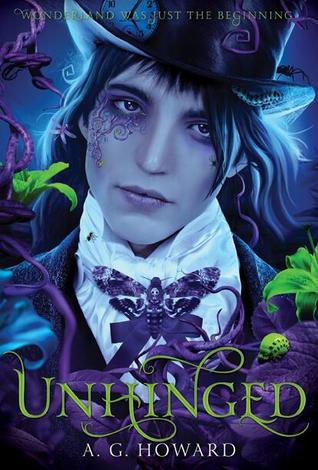 I was looking for a book with either a title or author starting with U at the weekend (always a good way to choose books) so decided to pick up Unhinged by A.G. Howard. It's the second book in the Splintered series which is based on Alice in Wonderland. I'm around halfway through at the moment and while it was a little bit slow at the start it's starting to pick up the pace now.
I also have an audio on the go at the moment, The Beautiful Ashes by Jeaniene Frost. It's the first in a paranormal/romance/urban fantasy series and this time instead of vampires and ghouls it's angels and demons. Really enjoying but not getting as much time as I'd like to listen to it as I haven't been doing much driving.
---
Recently Finished
First book finished was Lying in Wait by Liz Nugent. I requested this from NetGalley after hearing a lot of good things about it and I'm so glad I did as I think it's one of the best books I've read this year and definitely the best thriller. It starts off with respectable couple Andrew and Lydia murdering someone and covering it up so it's less of a who dunnit and more a why did they do it and will they get away with it. It's one of those stories that you just can't put down so I'd definitely recommend. You can see my full review here
After Lying in Wait I was in need of something a little bit lighter so picked up The Ex Factor by Eva Woods which was another NetGalley request. It's a story about four thirty something best friends who find themselves single at the same time. Rather than internet dating one of them suggests they set each other up with their ex boyfriends on the basis that they've already been vetted and just because they weren't right for one of them doesn't mean they wouldn't be perfect for another. Unsurprisingly things get complicated and a little awkward.
I thought the start was a bit shaky but it turned into a pretty good read. What I really liked was that you were never 100% sure how it would all turn out. I'll be posting a full review closer to the release date in September.
---
Reading Next
This week I am absolutely positively determined that I'm maybe going to make a start on A Long Way Down by Nick Hornby. It seems to have been on my reading next list forever but I do really need to pick it up soon.
After a recent trip to the library I'm also thinking about making a start on Resistance is Futile by Jenny Colgan. I do love Jenny Colgan but must admit to picking up this one based on the cover and the title. It doesn't hurt that it's described on the back as "a charmingly quirky tale of love, friendship…and the possible obliteration of mankind". Sounds good to me. 
I was also very excited to receive The Trespasser by Tana French from NetGalley during the week. She's another favourite author so I doubt I'll be able to resist reading this latest offering for long 🙂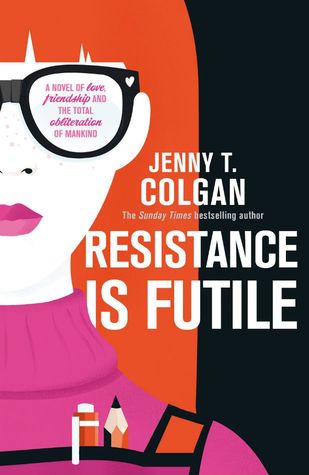 Have you read any of the books above or have any other book you'd recommend? Leave comments and links below.
Happy Wednesday everyone.