Teaser Tuesday is a weekly bookish meme hosted by MizB of Books and a Beat If you want to join in grab your current read, flick to a random page, select two sentences (without spoilers) and share them in a blog post or in the comments of Books and a Beat.
This week my teaser is from Paper and Fire, the second book in The Great Library series by Rachel Caine. I read the first book a few months ago and really enjoyed it so was very excited to get the follow up from the library last week. It's set in an alternate reality where the great library of Alexandria didn't burn down but gained more and more power. It's an easy and enjoyable read with plenty of action and some steampunk elements that I'm loving.
Warning: while the teaser is spoiler free the synopsis includes spoilers for the first book in the series.
---
My Teaser

We have been told that paper in a binding, ink on a page, is worth more than the life of any man, woman or child. We have been pressed into the service of this false idol we call Knowledge for far too long; we have forgotten how to be free of it, how to think for ourselves and believe we, in ourselves, are worth the breath we take, the land we walk.

~ Page 211,  Paper and Fire by Rachel Caine
---
Synopsis (from GoodReads)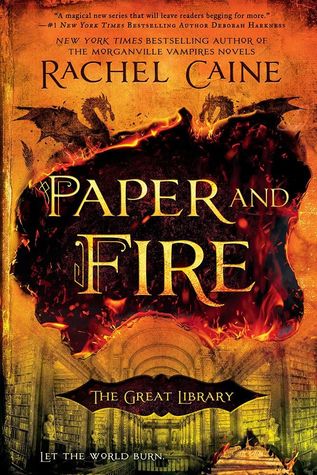 Ink and Bone introduced a world where knowledge is power, and power corrupts absolutely. Now, the story of those who dare to defy the Great Library—and rewrite history—continues. . . .
With an iron fist, The Great Library controls the knowledge of the world, ruthlessly stamping out all rebellion, forbidding the personal ownership of books in the name of the greater good.
Jess Brightwell has survived his introduction to the sinister, seductive world of the Library, but serving in its army is nothing like he envisioned. His life and the lives of those he cares for have been altered forever. His best friend is lost, and Morgan, the girl he loves, is locked away in the Iron Tower and doomed to a life apart.
Embarking on a mission to save one of their own, Jess and his band of allies make one wrong move and suddenly find themselves hunted by the Library's deadly automata and forced to flee Alexandria, all the way to London.
But Jess's home isn't safe anymore. The Welsh army is coming, London is burning, and soon, Jess must choose between his friends, his family, or the Library willing to sacrifice anything and anyone in the search for ultimate control. . . .
---
Happy reading everyone.