It's WWW Wednesday time.
The WWW Wednesdays meme is currently hosted by Sam @ Taking on a World of Words and is a great way to do a weekly update on what you've been reading and what you have planned.

To take part all you have to do is answer the following three questions:
What are you currently reading?
What did you recently finish reading?
What do you think you'll read next?
So here's my W's for the week.
---
Currently Reading
I've just started Ugly Love by Colleen Hoover. It's a book of the month in one of my reading groups so thought I'd better give it a try (I actually nominated so I feel like I really should). This will be my second Colleen Hoover book. I previously read Hopeless and had kind of mixed feelings about it but I'm hoping this will be a bit better (although I have seen some not great reviews).
---
Recently Finished
Managed to get a flat tyre on Friday night so was trapped indoors for most of Saturday while my hero went off to find me a new one (I don't have a spare only a repair kit). Between that and some very horrible weather I managed to get quite a bit of reading done this week and finished three books.
First up was Not If I See You First by Eric Lindstrom which is about a 16 year old girl Parker Grant who's blind, dealing with the loss of her dad and the return of an ex boyfriend. Not my usual type of read but I did enjoy it for the most part. I loved Parker but thought some of the supporting characters were a bit weak. I would have liked to have had a bit more background or details. You can read my full review here.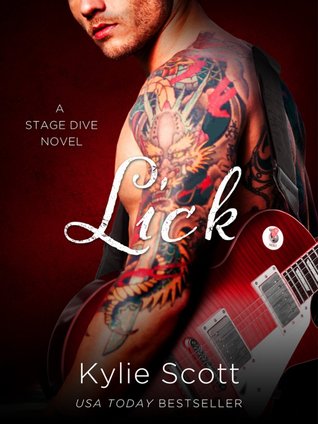 After that I felt like something a lot more adult so ditched my planned reading (sorry ARCs) and went for Lick by Kylie Scott. It was quite a quick, enjoyable read and pretty much what I expected. I did think for a romance it missed a bit of spark and I was more interested in one of the supporting characters than the male lead but it passed a lazy Saturday.
Finally, I finished Fairest by Marrisa Meyer yesterday. It's book 3.5 in the Lunar chronicles and is a bridging book between Cress and Winter. I've read and enjoyed all of the others in the series so knew what to expect and it didn't let me down. It's quite a short book at only 220 pages but it was a good 220 pages. Hopefully I'll get a review up soon.
---
Reading Next
It's getting quite embarrassing now that I still haven't read any of the books I've listed over the last couple of weeks as "reading next" but I'm determined that this week I will make a start on Black Widow by Chris Brookmyre. I haven't read any of his books in a while so looking forward to it. Will also be good to read something other than YA and romance.
In addition to Black Widow I also have another couple of ARC's I'd like to read (although I make no guarantee that I will actually start them this week). I was very excited today to receive Flawed by Cecelia Aherne. I'm a big fan of her books so I can't wait to see what she'll do in her first YA book. Finally, I also have Sleepless in Manhattan by Sarah Morgan, another of my favourite authors.
Hopefully this week I will actually manage to read some of these books but we'll see 🙂
Have you read any of the books above? Do you have any recommendations?