It's WWW Wednesday time.
The WWW Wednesdays meme is currently hosted by Sam @ Taking on a World of Words and is a great way to do a weekly update on what you've been reading and what you have planned.

To take part all you have to do is answer the following three questions:
What are you currently reading?
What did you recently finish reading?
What do you think you'll read next?
So here's my W's for the week.
---
Currently Reading
I just started Monsters of Men by Patrick Ness on Monday so haven't had a chance to read more than the first few chapters. It's the final part of the Chaos Walking trilogy and I can't wait to find out how it all ends. I've never read any books by Patrick Ness before this series but I get the feeling from what I've read so far that anything could happen. I think it will be epic.
As Monsters of Men is a physical book I'm also reading an ebook, Robyn Hood, A Girl's Tale by K.M. Shea, on my commute. I love K.M. Shea books, they are always nice and easy little reads that make me laugh. I'm around a quarter of the way through so far and I'm loving the reluctant heroine Robyn who has been bossed into becoming an outlaw by BFF Marian.
---
Recently Finished
The weather hasn't been particularly great over the last week so that's given me a great excuse to stay in and read. I suppose I could have cleaned and caught up on all the little jobs needing doing around the house but where's the fun in that? Anyway, all the extra reading time meant that I managed to finish three books.
The first book was The Ask and The Answer by Patrick Ness, the second book in the Chaos Walking Trilogy. I was a little concerned that it wouldn't be as good as The Knife of Never Letting Go but I needn't have worried as it was incredible. I sometimes find it hard to believe that these are children's books as they deal with so many big themes. I
haven't posted a review yet as I'm planning to do a review of the full trilogy once I finish.
The second book I read during the week was My Kind of Wonderful by Jill Shalvis. It was a sweet romance set in a ski resort in the Rockies. First time I've read a book by this author and I will probably be reading more as it did make me smile a lot. You can read my full review here.
The final book of the week was Him by Sarina Bowen and Elle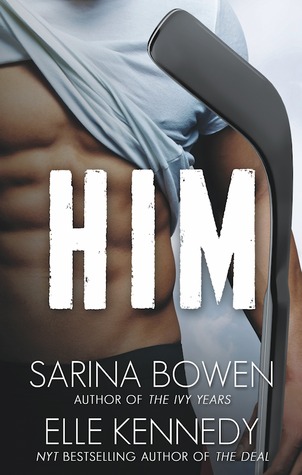 Kennedy. It's book of the month in one of my GoodRead's groups but I probably would have read it at some point regardless as it's my kind of story. I will hopefully post a review at the weekend but if you like LGBT romances with some seriously steamy scenes I'd definitely recommend. I was supposed to read it over a week and finished it in a day 🙂
---
Reading Next
After I finish my current reads I'm planning to make a start on After You by Jojo Moyes. I'm a big fan of Jojo Moyes and loved Me Before You. I've been a little worried about whether it will live up to expectations but hoping that as it's been a while since I read Me Before You I'll enjoy it.
After that I'm hoping to make a dent in some of the ARC's I've received over the last few weeks. I think the priorities will be The Masked City by Genevieve Cogman (which is way overdue) and You and Me Always by Jill Mansell.
Knowing me though I'll probably wander off and read something completely different. My New Year's resolution of not buying any new books until I've reduced my TBR has been a total flop and I think I've bought 5 or 6 books over the last week (oops!) so I have plenty of choices.
Have you read any of the books above? Do you have any recommendations?