It's WWW Wednesday time.
The WWW Wednesdays meme is currently hosted by Sam @ Taking on a World of Words and is a great way to do a weekly update on what you've been reading and what you have planned.

To take part all you have to do is answer the following three questions:
What are you currently reading?
What did you recently finish reading?
What do you think you'll read next?
So here's my W's for the week.
---
Currently Reading
Unfortunately I seem to have gotten a little bit stuck on Dead Ringers by Christopher Golden. Last week I was at 25% and have now reached around the 40% mark. I'm so tempted to give up but am determined to finish. I think the main problems are that I don't really like any of the characters and it's not particularly scary. Maybe the second half will be better.
My chances of finishing Dead Ringers is also being reduced dramatically by the fact that I've started reading My True Love Gave to Me. It's a selection of holiday themed short stories by young adult authors. Just started but I'm very excited as there are some great author's stories included.
---
Recently Finished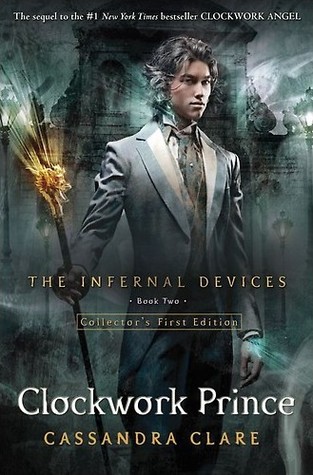 It's been a slow week as far as reading goes so only finished one book this time, Clockwork Prince by Cassandra Clare. It's the second in the Infernal Devices Series and while I wasn't mad keen on the first in the series I thought I'd give it a try. I didn't hate it but I have to admit I still prefer the Mortal Instruments series. Hopefully I should be able to post a review in the next couple of days.
---
Reading Next
As I've been really busy and stressed at work I've been resorting to my usual coping mechanism of acquiring books. Thankfully there wasn't too much damage to my bank balance as most came from the local library or NetGalley.
From NetGalley I managed to get my hands on My Kind of Wonderful by Jill Shalvis and You and Me, Always by Jill Mansell so think I'm going to try one of them next. I feel like it's time for a switch to chick lit. I also found Dangerous Lies by Becca Fitzpatrick in the library so may squeeze that in somewhere.
If you have any other suggestions or if you've read any of these leave a comment below.
Happy Wednesday all.