Release Date: 5th January 2016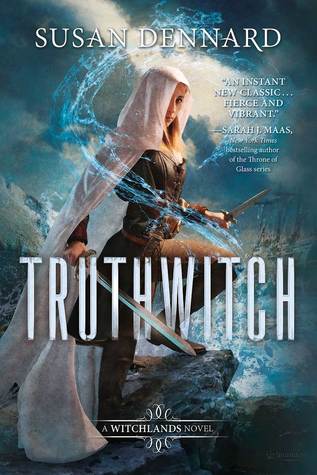 Blurb from GoodReads
On a continent ruled by three empires, some are born with a "witchery", a magical skill that sets them apart from others.

In the Witchlands, there are almost as many types of magic as there are ways to get in trouble—as two desperate young women know all too well.

Safiya is a Truthwitch, able to discern truth from lie. It's a powerful magic that many would kill to have on their side, especially amongst the nobility to which Safi was born. So Safi must keep her gift hidden, lest she be used as a pawn in the struggle between empires.

Iseult, a Threadwitch, can see the invisible ties that bind and entangle the lives around her—but she cannot see the bonds that touch her own heart. Her unlikely friendship with Safi has taken her from life as an outcast into one of reckless adventure, where she is a cool, wary balance to Safi's hotheaded impulsiveness.

Safi and Iseult just want to be free to live their own lives, but war is coming to the Witchlands. With the help of the cunning Prince Merik (a Windwitch and ship's captain) and the hindrance of a Bloodwitch bent on revenge, the friends must fight emperors, princes, and mercenaries alike, who will stop at nothing to get their hands on a Truthwitch.
---
Initial Thoughts
This is a book with a lot of buzz around it and I think it will definitely be one of the big new releases in 2016. It's certainly the type of book I'm excited about particularly considering it's been given the seal of approval by Sarah J Maas one of my favourite authors.
I received an extended extract (about the first 15 chapters) of Truthwitch from the publishers via NetGalley and based on what I've read so far I think I'll have to read the rest.
It certainly starts well with action from the very first page (Safi and Iseult are in the middle of a heist gone wrong). This is great as it gives a good sense of the characters and hooks you into the story from the very beginning. I do like a story with strong female leads and that is definitely the case with Truthwitch. What makes it even better is that these women seem to be true and loyal friends, something which is too rare in young adult fiction.
Truthwitch is set in a totally new world and has a very unique take on magic. There are a number of different lands and places as well as a lot of different types of witch and magic which I have to admit I found a little confusing. I probably would have preferred a simpler start with more gradual world building but I'm sure it will all make more sense once I get further into the story.
Overall it's definitely a promising start and I'm looking forward to reading the rest.