Yesterday I participated in my very first book tag so I've decided to keep trying new things and am taking on my very first meme. I've seen the WWW Wednesday meme popping up a lot and it looks fun so thought I'd give it a go. The WWW Wednesdays meme is currently hosted by Sam @ Taking on a World of Words.
The three W's are:
What are you currently reading?
What did you recently finish reading?
What do you think you'll read next?
So here's my W's for the week.
---
Currently Reading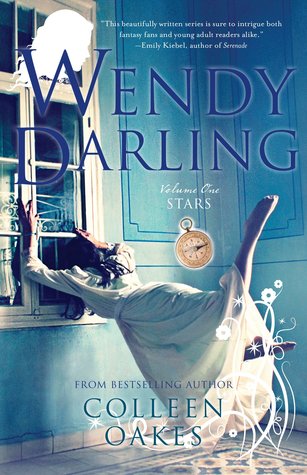 Yesterday I started Wendy Darling by Colleen Oakes. As you may have noticed I'm a big fan of fairytale re-tellings so when I spotted this new version of Peter Pan I couldn't resist. I read Neverland by Anna Katmore back in April so this is my second Peter Pan book this year. This one however seems much more of a classic re-telling than Neverland which put a bit of a twist on the characters. Really enjoying it so far, finding it quite dark and sinister. Peter is kind of giving me the creeps but then I think there is something a bit odd about a boy who doesn't want to grow up and seems to want to collect little boys.
If you look to the widgets on the right you will also see I'm currently reading The 7 Habits of Highly Effective People. I started this a few weeks ago got about half way through and came to a stop. Not sure I will ever actually manage to finish it. I'm obviously not that effective.
---
Recently Finished
My most recent read is Genie by Kitty French. Kitty French is the other pen name of Kat French who wrote one of my favourite books this year, The Piano Man Project.
This is a little more X rated than the Piano Man Project but I thought it was a great read. She's a burlesque dancer and he's the owner of a chain of gyms who wants to buy the theatre where she works and hates "strippers". There are a lot of arguments and an undeniable attraction between the two of them. I'll post a proper review soon but it's definitely one I'd recommend if you like an erotic romance (and who doesn't).
If nothing else don't you just love the cover.
---
Reading Next
This is actually the hardest question for me as I usually don't make up my mind till the very last possible moment. I currently have 103 books on my kindle TBR shelf so there are no shortage of options. It will no doubt depend on whether I feel like something light and funny or if I want something a bit darker.
I really, really want to read A Court of Thorns & Roses by Sarah J Maas but feel I should take a break for a month or so to recover from the last two books in the throne of glass series. I think therefore the most likely candidates for next read are either 3:34am by Nick Pirog or What Could Possibly Go Wrong by Jodi Taylor. Both are continuations of a series I love and are likely to be slightly silly reads.
So that's my first set of W's what do you think? Are there any other books I should add to my ever growing TBR pile?