The WWW Wednesday meme is currently hosted by Sam @ Taking on a World of Words and is a great way to do a weekly update on what you've been reading and what you have planned.

To take part all you have to do is answer the following three questions:
What are you currently reading?
What did you recently finish reading?
What do you think you'll read next?
---
Currently Reading

I just finished a book yesterday so haven't quite decided what I'm going to pick up next but all of my reads have been pretty serious and/or dark so I think I'm going to go for Hate Notes by Vi Keeland and Penelope Ward. This popped up on my Amazon recommendations and I spotted it had some good reviews so thought why not.
On audio I'm listening to Armada by Ernest Cline and I am absolutely loving it. Given I wasn't a huge fan of Ready Player One I didn't really expect to but for some reason this is working so much better for me. I am loving all of the references to classic sci fi films (Aliens, Star Wars, Star Trek, Flight of the Navigator) many of which are on my all time faves list but mostly I'm loving Will Wheaton's narration. He just sounds like he's having so much fun. It's tempting me to go back and try the audio version of Ready Player One.
Recently Finished
It's been a bumper reading week for me with twelve books finished this week, although given 6 of those books were 100 page novellas, this sounds more impressive than it is.

Palm Beach Finland – 4.5 stars – I really, really liked this. The blurb describes it as Baywatch meets Fargo and that (together with the title) kind of sums it up. There's a lot of dark humor, incompetent criminals, a murder investigation and a little bit of romance. It is laugh out loud funny in places though so maybe don't read in public.
The Wicked King – 4 stars – I think my expectations were too high going in to this and for some reason it took me a while to get into it. I still love Jude, she's such an intriguing character and I love the way Black portrays Faerie but I was less invested this time around. I am still looking forward to book 3 though.
Good Samaritans – 4 stars – Dark and disturbing with some seriously messed up characters. I struggled a little with the multiple povs and short chapters in the beginning (plus I couldn't figure out what was going on) but by the mid point I was hooked.

Do Polar Bears Get Lonely – 2.5 stars – I probably should have read the blurb as I thought this was going to be interesting and funny facts but instead it's a collection of readers letters with responses previously published in New Scientist magazine. Some of the questions were interesting but I did skim over quite a bit either because I didn't care or the answers were too complex.
King Arthur and Her Knights (books 1-7) – 4.5 stars – This was a re read for me. I only meant to read the first book and literally couldn't stop. I love this take on the King Arthur legend, it's funny, action packed and has such a brilliant romance. The books are only around a 100 page so it's all too easy to go on a series binge.
On the Come Up – 4 stars – I was initially a bit wary of this (as a 40 year old white woman I don't think I'm the target audience) but it completely hooked me and I ended up finishing the whole thing in a day. Bri drove me a little crazy but I did like her a lot and love how she developed.
Reading Next
I do probably need to take a bit of a reading break to catch up with reviews but as I'm hoping to get through to see Angie Thomas at her Edinburgh event this weekend I think it may finally be time to read The Hate U Give. Up until now I've been put off by all of the hype and rave reviews (the more people tell me how brilliant a book is the less I want to read it). I also need to read Two Can Keep a Secret before it's due back to the library and I should probably try to make a dent in my NetGalley shelf (although there are so many books on it I'm not sure where to start)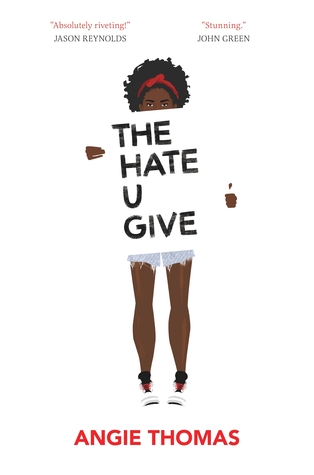 Have you read any of the books on my list this week? Any others you'd recommend? As always please feel free to leave comments and links below.
Happy Reading ❤