The WWW Wednesday meme is currently hosted by Sam @ Taking on a World of Words and is a great way to do a weekly update on what you've been reading and what you have planned.

To take part all you have to do is answer the following three questions:
What are you currently reading?
What did you recently finish reading?
What do you think you'll read next?
---
Currently Reading
I started reading A Discovery of Witches by Deborah Harkness at the weekend but due to a binge watch of Vanity Fair (which was awesome) I have to confess I haven't made a huge amount of progress. I am enjoying the writing style and I do want to read asap so I can start watching the TV adaptation. I always prefer reading something first so the show doesn't influence the way I visualize the characters.
On audio I've started listening to Clockwork Princess by Cassandra Clare. At 16+ hours it's longer than I usually listen for (and I'm not sure I'll get it done before it's due back) but I've already listened to an hour and I think I may be preferring the audio to the book.
---
Recently Finished

I'm still spending far too much time on clearing my house (how did I end up with so much stuff?) so I'm reading a lot less. I did manage to finish Broken Things by Lauren Oliver however and really enjoyed it, although I'm not sure enjoyed is the right word as it's pretty dark. The story is about three young girls who are best friends and then one is brutally murdered and the other two are blamed by everyone but it can't be proved. A few years later, one of the two makes a discovery that brings them back together to try and discover who the real killer is. There's a lot of potentially triggering things (paedophilia, animal abuse, fat shaming, and murder of a child) but I thought it was very well written and an intriguing story.
I also managed, at long last, to finish Leah on the Offbeat by Becky Albertalli. I don't know why but I found this a bit of a struggle. There's nothing bad about it, there was just nothing that made me care about Leah. So overall it was a bit meh. I also don't really like it when authors muck about with characters so they're different from how they were in a previous book.
---
Reading Next
I've been overdosing a little on YA contemporary reads at the moment so I think I need something a bit different. I do want to read What If It's Us by Becky Albertalli and Adam Silvera but I think I may switch to some spooky reads to get myself in the Halloween spirit.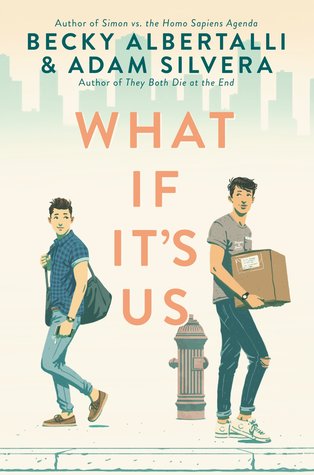 Have you read any of the books on my list this week? Any others you'd recommend? As always please feel free to leave comments and links below.
Happy Reading ❤