The WWW Wednesday meme is currently hosted by Sam @ Taking on a World of Words and is a great way to do a weekly update on what you've been reading and what you have planned.

To take part all you have to do is answer the following three questions:
What are you currently reading?
What did you recently finish reading?
What do you think you'll read next?
---
Currently Reading
I'm very excited to be finally reading The Towering Sky by Katherine McGee. I knew as soon as I received it from the publishers via NetGalley I wouldn't be able to resist it for long. It's the third and final book in the Thousandth Floor trilogy and I'm fully expecting something wow. I tend to think of it as a kind of futuristic teen soap opera. It has that rich people stabbing each other in the back, inappropriate relationships and dangerous secrets thing that is so fun to read. I only really started it late last night so only around 5% in as I'm writing this but like the previous books in the trilogy it begins with a killer hook.
On audio I'm still listening to Dream a Little Dream by Giovanna Fletcher. I've actually made some good progress with it and only have around 3 hours left so I expect to finish it this weekend. I have to admit I wasn't wholly convinced by this to start with, and I'm still not saying it's a great read, but since I reached around the halfway point it has picked up a lot. I think my biggest gripe is the main character who's a little too passive for my tastes. I'm crossing everything that she will at some point make a stand and give her horrible ex, her mother and her boss what for.
As I suspected trying to read two books at the one time was a bit much so I've put And the Ocean Was Our Sky by Patrick Ness on the back burner until next week. I want to take the time to sit and enjoy it rather than only reading a couple of pages here and there.
---
Recently Finished
The first book finished this week was  Spinning Silver by Naomi Novik. I received this ages ago from NetGalley but had parked it due to difficulties with the formatting of the ARC. I finally managed to get a copy from the library and dived right back in. It's very loosely based on Rumpelstiltskin but there's so much more to it than that. The author has made it completely her own. There's so much depth and complexity to it and the writing and world she creates is incredible. If I had one niggle it's that I was never wholly invested in it. Think it was a case of too many pov's. You can read my full review here.
After Spinning Silver I was in the mood for something completely different, some light and fun nonsense, so needless to say I reverted to Tessa Dare and Do You Want to Start a Scandal. I love Dare's historical romances and this has now become one of my favorites. It just made me laugh so much. Keeping a straight face while reading this on the train on the way to work was however a challenge, I don't recommend it.
The third book finished The Hunting Party by Lucy Foley was a much more serious read, thank goodness (I do not want to be the train weirdo). This was a major diversion from my reading plans but I was sitting in the hairdressers trying to pick a book and this was calling to me. It's not out till January I think, so yep I'm really early, but I just loved the sound of it. It's one of those "group of old friends (and some creepy strangers) stranded in a remote location (Scottish Highlands) and someone is murdered" type stories. I do love these stories and this was brilliant, particularly in terms of the horrible characters. My only issue with it was that it lacked tension and that creepy factor I was hoping for.
---
Reading Next
And yet again I think I have the same reading next list, I really must pick up The Silence of the Girls and Mirage soon. I also have an ARC of A House of Ghosts which I'm really looking forward to and quite a few library books including the third in Seanan McGuire's Wayward Children series, Beneath the Sugar Sky. So yep, busy week ahead 🙂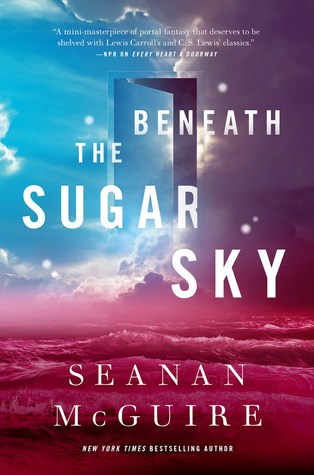 Have you read any of the books on my list this week? Any others you'd recommend? As always please feel free to leave comments and links below.
Happy Reading ❤