The WWW Wednesday meme is currently hosted by Sam @ Taking on a World of Words and is a great way to do a weekly update on what you've been reading and what you have planned.

To take part all you have to do is answer the following three questions:
What are you currently reading?
What did you recently finish reading?
What do you think you'll read next?
---
Currently Reading
I started reading The Way of All Flesh by Ambrose Parry (aka Chris Brookmyre and Dr Marisa Haetzman) yesterday morning and am making pretty good progress with it. I've been a big fan of Brookmyre for many years now so was interested to see what he (in partnership with his wife) would do with historical crime fiction. As I'm writing this (last night) I'm around a quarter of the way through and very much enjoying it. Other than the discovery of a body at the start by the MC there hasn't been much in the way of murder mystery but I'm loving all of the detail around medicine in 1847.
On audio I'm still listening to Down Among the Sticks and Bones, the second book in Seanan McGuire's Wayward Children series. I haven't had much listening time over the past week so even though it's only 4 hours long I'm still only around halfway through but still really enjoying it. I really love McGuire's writing and this series is quite fairytale-ish albeit a dark and gruesome fairytale. This book is a kind of prequel to the first and tells the story of two of the characters, twins Jack and Jill. I'm not sure I'm loving it quite as much as the first book but I've only just gotten to the bit where they go through a door into another world so I'm expecting it to pick up.
---
Recently Finished

The last week was another pretty good reading week for me with four books finished and a five star read among them.
The first book finished was The Miseducation of Cameron Post by Emily M Danforth which I'd received from the publisher via NetGalley. I really wanted to love this story of a girl growing up in small town Montana but I'm afraid to say it didn't wholly work for me. The writing is brilliant and there are some great characters and descriptions which all make it feel very real but I just never found an emotional connection to the story or the main character. And, with this type of story, I need some kind of feels.
After Cameron Post I decided to take some brave pills and finally tackle The Travelling Cat Chronicles by Hiro Arikawa which I kind of needed for a Goodreads challenge (cat on cover) but mostly wanted to read because I've been trying to read more translated fiction and I liked the sound of this story about the relationship between a man and a cat. I was a little wary going in as I had an inkling it may be sad, and it was, but I'm so glad I've read this. Yep it turned me into a big teary mess but it also made me laugh and left me feeling uplifted. It really is a beautiful story.
As I predicted last week, after the emotional trauma of the Travelling Cat I needed something much lighter so picked up The Governess Game by Tessa Dare and it was just what I needed. It's the second book in the Girl Meets Duke series but like most of Dare's books can easily be read as a standalone. I very much enjoyed this historical romance with it's elements of Jane Eyre (and a random Titanic reference) but I'm not sure I loved it quite as much as the previous book. It may just have been that I've read a lot of Dare's books over the past few months so the novelty's worn off a bit. What I will say is that I read the whole thing in one sitting so it obviously wasn't too much of a chore 😉
The fourth and final book finished this week was The Heartbreakers by Ali Novak which I borrowed from the library. I'd love to say it was one that had been on my TBR for a while but if I'm honest I was looking for a book with a musical instrument on the cover for the same challenge as above and this had a guitar and some pretty good ratings. It did however surprise me in the best possible way. It's a really cute and funny romance with a heck of a lot of chemistry. I will be tracking down more books by this author I think.
---
Reading Next
Per last weeks post I was hoping to pick up Surface Breaks by Louise O'Neill next but unfortunately by the time I got to it I only had a couple of days left on the loan and others were waiting so I decided just to return it rather than rushing through it. I don't think I'm in the mood for another mermaid book right now anyway so probably for the best. What I am in the mood for is something dark and twisty. It's not too long till Bloody Scotland so I think I may pick up Luca Veste's latest book The Bone Keeper next. It looks suitably creepy and I haven't read any books by Veste yet despite owning a couple.
I'm also going to see Matt Haig on the 25th of this month so really want to read How to Stop Time before then. Finally, I'm thinking I may pick up A Curse so Dark and Lonely by Brigid Kmmerer. I got this from NetGalley and it's not out for ages but I do love a Beauty and the Beast retelling and this is getting some great reviews.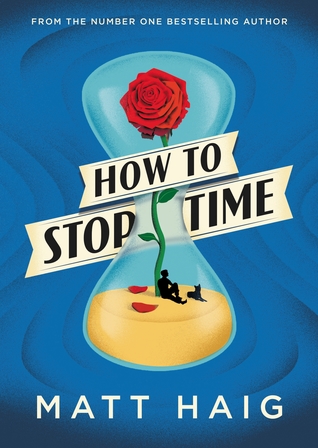 Have you read any of the books on my list this week? Any others you'd recommend? As always please feel free to leave comments and links below.
Happy Reading ❤