The WWW Wednesday meme is currently hosted by Sam @ Taking on a World of Words and is a great way to do a weekly update on what you've been reading and what you have planned.

To take part all you have to do is answer the following three questions:
What are you currently reading?
What did you recently finish reading?
What do you think you'll read next?
---
Currently Reading
I spied If Cats Disappeared from the World on NetGalley on Monday and it had such a weird title and cute cover I couldn't resist requesting and starting immediately. I've been trying to read a lot more widely so it's great to find a book by a Japanese author and it has such an unusual premise being about a man who makes a deal with the devil. I think there are a few little issues around the translation but so far I'm enjoying it and it seems like it's going to be a quick read. I am however a bit worried about the cat 🙂
---
Recently Finished

The first book finished this week was Red Sister by Mark Lawrence. This was one of those books I'd bought ages ago but never got around to reading. I did however receive the follow up from NetGalley so that gave me the little push to finally pick it up. I will admit I found it a little difficult to get into in the beginning (something that's pretty common with me and fantasy) but it really builds to an exciting conclusion.
After a certain someone commented last week that all of my reads seemed a bit dark and lacking in romance I decided I should really rectify that and went a hunting on Overdrive where I found adult romance Alpha by Jasinda Wilder. It was a little heavy on the sex scenes but a quick read and perfect for clearing the reading palate. Not sure I enjoyed enough to finish the series but maybe.
Third and final book finished this week was an ARC of That's Not What Happened by Kody Keplinger. It's set three years after a school shooting and reveals the real stories from the survivors and how the truth isn't necessarily what others want to hear. It's a difficult topic and isn't the easiest of reads at times as while it's three years later they're still struggling but it's very relevant right now and demonstrates so well just how emotive the issues can be and how the human side of it is often forgotten about while everyone keeps trying to get their message across.
---
Reading Next
I'm planning to start Grey Sister the sequel to Red Sister this weekend as I'm doing it as a buddy read from the 1st July. It was nice to have a bit of a break from the series but I am looking forward to getting back into it. A couple of library book holds also came in, The Girl in the Tower by Katherine Arden and Surprise Me by Sophie Kinsella, so I should really be picking them up soon too.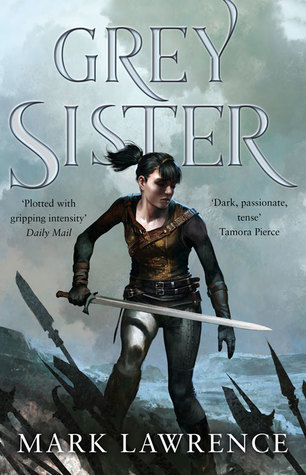 Have you read any of the books on my list this week? Any others you'd recommend? As always please feel free to leave comments and links below.
Happy Reading ❤