The WWW Wednesday meme is currently hosted by Sam @ Taking on a World of Words and is a great way to do a weekly update on what you've been reading and what you have planned.

To take part all you have to do is answer the following three questions:
What are you currently reading?
What did you recently finish reading?
What do you think you'll read next?
---
Currently Reading
I've gotten seriously behind on my reviews (blog posts in general, housework, work work, life etc) so I'm determined not to pick up anything new till I'm at least slightly caught up. That being said I did start reading Meddling Kids by Edgar Cantero at the weekend so I've been dipping in and out. It hasn't really gripped me so far which is a good thing as I don't really want to disappear into book obsession right now.
---
Recently Finished

The first book finished this week was Legendary, the sequel to Caraval, by Stephanie Garber and wow this book was everything. Having spotted a lot of rave reviews I did have high hopes for it, so high I kept putting off reading it, but it exceeded them all. I wasn't sure I would like Tella as a main character but she made this book for me. She's reckless and impulsive and goes for what she wants no matter the risk which makes her so fun (and only occasionally frustrating) to read. I also had some doubts that Garber would be able to keep the level of mystery but I found myself questioning everything and some of the reveals were jaw dropping (I was very tempted to stay on the train and not go to work). I have written up my review for this but I need to wait a little closer to publication before I post it.
Because Legendary blew me away so completely I have to admit I struggled to pick up anything else for a day or two and ended up doing that thing where I started something, read a chapter or two before putting it down again and switching to something else. I therefore did what I usually do when a slump is looming and went for a light and fun romance with Tessa Dare's Romancing the Duke. Ever since I read her latest book The Duchess Deal I've been wanting to pick up something else by Dare and as they don't require a lot of thought (and are available on Overdrive) it seemed the perfect choice. I didn't enjoy as much as The Duchess Deal, but I'll blame that on the slump and it did get me ready to read something more serious.
The third and final book finished this week was The Good Son by You-Jeong Jeong, which I'd received from the publishers via NetGalley. I think this is probably the first book I've read by a Korean author and it was absolutely brilliant. It's a mystery/thriller that digs deep into the mind and memories of one character. It has a lot of things I generally dislike, lots of internal monologues, flashbacks, unreliable narrator but it just worked for me. It's dark and a little bit gruesome and I found it completely addictive.
---
Reading Next
I still need to get my NetGalley shelf under control as despite it creaking at the seams I haven't stopped requesting more and more books (I need a Netgalley addicts anonymous group or something). I think I am going to be looking for a fantasy read next so I'm thinking one of the following.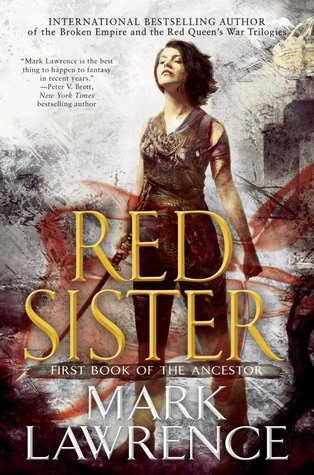 Have you read any of the books on my list this week? Any others you'd recommend? As always please feel free to leave comments and links below.
Happy Reading ❤