The WWW Wednesday meme is currently hosted by Sam @ Taking on a World of Words and is a great way to do a weekly update on what you've been reading and what you have planned.

To take part all you have to do is answer the following three questions:
What are you currently reading?
What did you recently finish reading?
What do you think you'll read next?
---
Currently Reading
I started reading Snap by Belinda Baur on Monday and am already almost half way through despite not getting a lot of reading time. It's just so gripping I'm sneaking a read at every possible opportunity. I have to say though that it's a bit of a strange one as I really have no idea where the story is going. Usually with this type of thriller there's a clear direction but at the moment it seems to be three different stories which I'm assuming will come together at some point.
---
Recently Finished
The first book finished this week was The Craftsman by Sharon Bolton which I'd received via Netgalley. I hadn't read anything from this author before but I really liked the synopsis and it seemed to get some great reviews. I haven't written up my review yet (I am the queen of procrastination) but I will be adding to those great reviews as I liked this A LOT, definitely one of the best thrillers I've read in a while. I loved the setting of northern England in the late 1960's and I loved the sinister atmosphere the author created. There were more than a few creepy moments and a lot of unexpected twists.
After the Craftsman I was in the mood for something light and fluffy so switched to a romance with R.S. Grey's The Design which I got on kindle unlimited. It's a follow up to The Duet (a book I really liked) but could probably be read as a standalone. Unfortunately while this book was a pretty quick and easy read I didn't enjoy as much as I hoped. I'm not sure I really liked main character Cammie (I didn't like the way she behaved or how she kept pushing and playing games) and there wasn't enough of Grayson to really get to know him. It just lacked spark, although I have found Grey's books can be a bit hit or miss at times.
The third and final book finished this week was Call Me By Your Name by Andre Aciman which I'd been listening to on audio. This is probably one of those books where I'm glad to have read it but am not entirely sure I enjoyed it. Main character Elio is a little too obsessed with house guest Oliver in my opinion and I found some of his actions a little disturbing and uncomfortable to read (or should that be listen to). There are other moments I did like but having now also watched the film I'd pretty much recommend you stick with that as it's actually a lot better (or less disturbing).
---
Reading Next
I'm off to southern Spain on holiday this weekend so I'm not sure how much reading I'll get done. I have managed to get a copy of Fantastic Beasts on audio from Overdrive so I think that'll be my entertainment for the plane, although I may try to get something else as a backup. I also requested and was approved for Kat French's new summer romance, A Summer Scandal, which sounds like perfect by the pool reading to me, and I still have Dear Martin and Legendary (and a few hundred other books) ready to read.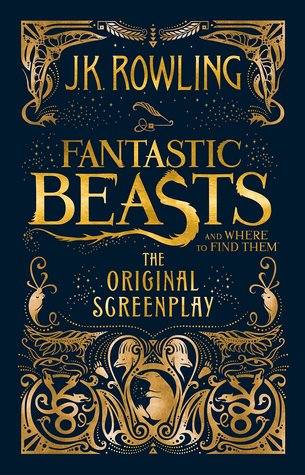 Have you read any of the books on my list this week? Any others you'd recommend? As always please feel free to leave comments and links below.
Happy Reading ❤