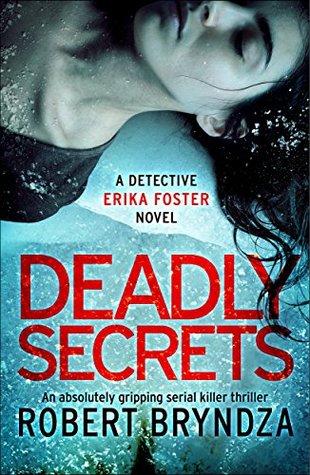 This may be book 6 in the series but DI Erika Foster shows no signs of slowing down and I think this is possibly my favorite so far.
Note: while this is book 6 in the series it can be read as a standalone so there are no spoilers in this review, although I do recommend the others in the series
---
THE BLURB
To commit the perfect murder, you need the perfect cover. 

On a cold icy morning, a mother wakes to find her daughter's blood-soaked body frozen to the road. Who would carry out such a horrific killing on the victim's doorstep?

Straight off her last harrowing case, Detective Erika Foster is feeling fragile but determined to lead the investigation. As she sets to work, she finds reports of assaults in the same quiet South London suburb where the woman was killed. One chilling detail links them to the murder victim – they were all attacked by a figure in black wearing a gas mask.

Erika is on the hunt for a killer with a terrifying calling card. The case gets more complicated when she uncovers a tangled web of secrets surrounding the death of the beautiful young woman.

Yet just as Erika begins to piece the clues together, she is forced to confront painful memories of her past. Erika must dig deep, stay focused and find the killer. Only this time, one of her own is in terrible danger…
---
MY REVIEW
If you've been reading this series you'll be familiar with the format, it begins with a gruesome murder (beware Bryndza has upped the ick factor) and the discovery of a body. Erika who's supposed to be on the way to Christmas lunch with her former boss and old police training pal, can't resist getting involved and before you know it she's leading the search for yet another serial killer.
Unlike previous books in the series however, this time Bryndza has put the focus almost entirely on the investigation and this is much more police procedural than thriller and personally, I think it is so much the better for it. There are still some chapters from the killer's point of view but they're fairly brief, give little away and are very chilling. It's rare that an author can present a convincing view from inside the mind of a killer so I'm always happier to stick with the detectives, particularly those in this series.
The characters are definitely what I love the most about this series. They really are such a wonderfully diverse, interesting and well rounded bunch and I love how their relationships have evolved and developed over the series.
There's a little bit less of Erika this time around as something in her personal life forces her to pass on the case to one of her team but, while less Erika seems like a bad thing, it actually added an extra element to the story as it allowed the personal side of her character to be developed while also providing a bit more insight into her backstory. It also had the benefit of giving some of the other team members the opportunity to shine. Moss, my favorite character, gets a much more prominent role which I really can't complain about.
The case itself is an intriguing one and it really kept me guessing. There are a few clues and a few red herrings scattered along the way but I can honestly say my theories as to who the killer was were completely wrong.
You may be wondering why if I enjoyed this so much I couldn't give the full five stars (believe me I wanted to). Unfortunately it suffers from some of the same issues the previous books had in terms of continuity errors (there are some disappearing shoes and inconsistencies in setting). I also felt that at times there was something off about descriptions of expressions and reactions but this may just have been me.
Despite these niggles this is a gripping read and one I'd recommend if you like a fast paced serial killer type story with quite a few twists and turns.
Thanks to NetGalley and Bookouture for providing me with a copy. As always all views are my own.