The WWW Wednesday meme is currently hosted by Sam @ Taking on a World of Words and is a great way to do a weekly update on what you've been reading and what you have planned.

To take part all you have to do is answer the following three questions:
What are you currently reading?
What did you recently finish reading?
What do you think you'll read next?
---
Currently Reading
I finished a book pretty late last night (about 15 mins before writing this post) so I'm not 100% decided on what I will be currently reading when this goes up but I think I'm probably going to pick up Sam and Ilsa's Last Hurrah by Rachel Cohn and David Levithan. I received this as an ARC from NetGalley and it's due for publication tomorrow so….
I have read around the first 10% (I was doing that picking up books then changing my mind thing) and I think it'll make for a fun read. I already like Ilsa's voice. Plus I am a huge big fan of the author's other book Dash and Lily's Book of Dares. 
On audio, I've started listening to Call Me By Your Name by Andre Aciman and am finding it strangely addictive. It is very focused on main character Elio's infatuation with summer guest Oliver and I do find myself thinking get a grip, is that really all you can think about but there is something that draws you in even if it is a bit pretentious. I hadn't realized it was narrated by Armie Hammer when I got this from Overdrive and while I do like his voice I'm not entirely convinced he's the right narrator.
---
Recently Finished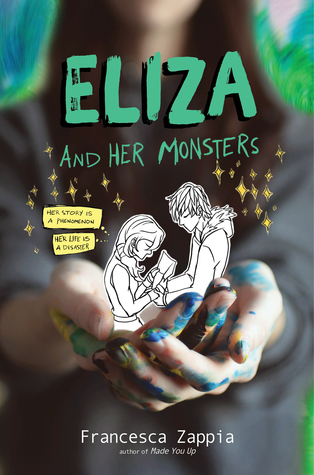 The first book finished this week was The Ghost of You and Me by Kelly Oram. I really, really liked this story about a teenage boy who died in an accident and comes back as a ghost to try and help his girlfriend and best friend to move on with their lives. It was sad as I expected but also very funny in places too. I do love Oram's writing, it's just so easy to read but full of feels.
The second book finished this week, Eliza and her Monsters by Francesca Zappia also turned out to be an incredibly emotional read, which I was not expecting. I kind of knew that there would be some kind of mental health element to the story, it's about a girl who's shy, weird and friendless, but it went a lot heavier than I was anticipating and really broke my heart towards the end. It was a fairly quick read and I think I blasted through the whole thing within a day (it was due back to the library) but I do feel I should add a warning that it could be triggering.
Skin Deep by Liz Nugent, the final book finished this week, was thankfully a less emotional read. If anything this character study of a sociopath could have done with a bit more feeling. I do love Liz Nugent and this is a fascinating read with a truly heartless MC but it never really grabbed me. My review should be up soon.
---
Reading Next
Unbelievably I've read or am in the process of reading everything I had here last week so I get to pick new books. I have to admit I mostly just want to read Legendary (the sequel to Caraval) but I'm going to try to pick up a few more of the ARCs on my NetGalley shelf before it gets completely out of control.
Have you read any of the books on my list this week? Any others you'd recommend? As always please feel free to leave comments and links below.
Happy Reading ❤