The WWW Wednesday meme is currently hosted by Sam @ Taking on a World of Words and is a great way to do a weekly update on what you've been reading and what you have planned.

To take part all you have to do is answer the following three questions:
What are you currently reading?
What did you recently finish reading?
What do you think you'll read next?
---
Currently Reading
I started reading It Only Happens in the Movies by Holly Bourne last night so I haven't made much progress on it so far. I do however have high hopes for it as I've seen a lot of rave reviews and I loved Bourne's soon to be released How Do You Like Me Now. Plus you know, there's a whole movie theme.
On audio I'm still listening to Frankenstein, narrated by Dan Stevens but have made literally no progress as I haven't really driven anywhere.
---
Recently Finished
It's been my turn to be ill over the last week so I've had a couple of days where I haven't been up for any reading, or in fact getting out of bed. Needless to say it also affected my reading choices, I have a bit of a tendency to go for light and fluffy romances. I did however manage to finish three books, the first of which was Happily Ever After by Kelly Oram. This was the sequel to one of my favourite feelgood books, Cinder and Ella, and while I'm not sure it needed a sequel I really enjoyed being back with all of the characters. It's rare you get to find out what happens next after a big ending and I thought Oram did a really great job. It's not quite as good but there are plenty of feels, yep I cried.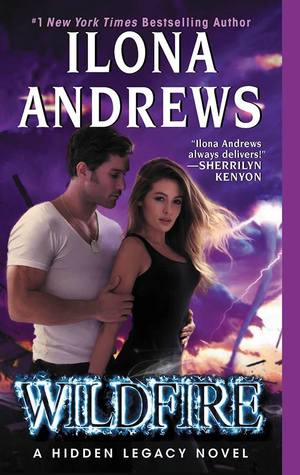 After Happily Ever After I came across Wildfire by Ilona Andrews on sale on Amazon and that seemed like a good excuse to finish another series I had in progress. It's the third and I thought final book in the Hidden Legacy series but I'm pretty sure with that ending there's more to come. Overall I found it an okay read but not as good as the first two books. I think this was me rather than the book though as I was feeling really rough when reading it. All of the other reviews I've seen (by reviewers I rate) rave over it. Maybe I'll go back and re read at some point (also because I really don't remember much of it).
The third and final book read this week was The Princess Diaries by Meg Cabot. This has been lurking on my kindle for ages (possibly years) and I finally picked it up because it fit a task on the team challenge I'm taking part in on Goodreads. It was nice to finally read this and I very much enjoyed it. I've seen the film a few times, but there were enough differences to keep me engaged. I have to say I find Grandmere in the book much funnier and more interesting than the character in the film. I would have loved if they'd let Julie Andrews play her that way.
---
Reading Next
I'm going to be doing this team challenge for the next four or five weeks so I think my reading is going to be driven primarily by what I can make fit the various tasks. I'm therefore not going to attempt to guess what my next read will be.
Have you read any of the books on my list this week? Any others you'd recommend? As always please feel free to leave comments and links below.
Happy Reading!!