The WWW Wednesday meme is currently hosted by Sam @ Taking on a World of Words and is a great way to do a weekly update on what you've been reading and what you have planned.

To take part all you have to do is answer the following three questions:
What are you currently reading?
What did you recently finish reading?
What do you think you'll read next?
---
Currently Reading
I started reading The Rules of Magic by Alice Hoffman at the weekend but I have to admit I'm finding it a bit of a struggle. It's the prequel to Practical Magic, is set in the 60's and 70's and follows the aunts (Franny and Jet) growing up and discovering their powers. I was really excited to receive this from NetGalley as while I haven't read Practical Magic it's one of my favorite films. I think though I'm finding it a bit slow and drawn out. I keep finding excuses not to read it which is never a good sign.
---
Recently Finished
I've had a few days off work (last chance before it gets really hectic) and the weather hasn't been great so I've managed to squeeze in quite a bit of reading and finished three books. The first of these was Invictus by Ryan Graudin which I'd received from NetGalley. It's about five teens travelling through time to smuggle goods and I absolutely loved it. I do love time travel stories (the whole paradox thing fascinates me) but with this I also really liked the writing style and I loved the cast of characters. Definitely one I'd recommend and you can read my full review here. And, if you don't want to start a new series, it's a standalone so you have no excuse 🙂
Second book finished this week was  Moonlight over Manhattan by Sarah Morgan which I also received from Netgalley (I'm now at 79% people). I love Sarah Morgan books and always look forward to her Christmas romances, they're perfect for getting you in the festive spirit. This one has a shy and very kind main character, a sexy ER doc as the love interest and a misbehaving dog so needless to say I enjoyed it a lot. You can read my full review here.
The third and final book finished this week was The Haunting by Alex Bell. I recently read and loved two of the authors other creepy horror stories, Frozen Charlotte and Charlotte Says, so couldn't resist this when I spotted it for 99p on Amazon. It's a really quick and easy read and while not quite as good as the Charlotte books it still completely sucked me in. This time it's a haunted hotel rather than some creepy little dolls but with things moving around, a curse and maybe the ghost of a witch in the cellar it's still a spooky read.
---
Reading Next
I came across my copy of The Boy on the Bridge by M.R. Carey yesterday when I was looking for something to use for a teaser and it's made me very tempted to pick it up next. I'm in a bit of a horror mood at the moment (I watched IT and the Descent on Monday). I also really want to get above that 80% mark at NetGalley so I think I may also pick up Undercover Princess by Connie Glynn or The Break by Marian Keyes.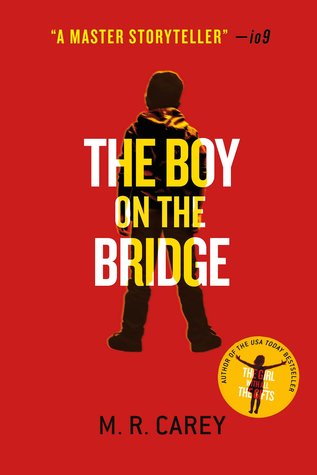 Have you read any of the books on my list this week? Any others you'd recommend? As always please feel free to leave comments and links below.
Happy Wednesday Everyone!!!