The WWW Wednesday meme is currently hosted by Sam @ Taking on a World of Words and is a great way to do a weekly update on what you've been reading and what you have planned.

To take part all you have to do is answer the following three questions:
What are you currently reading?
What did you recently finish reading?
What do you think you'll read next?
---
Currently Reading
I just started reading The Accident by S.D. Monaghan yesterday and I'm already around a third of the way through and absolutely loving it. Despite supposedly having a NetGalley request ban in place I couldn't really resist this one. It's a thriller about a man who discovers his wife cheating on him and accidentally kills the other man (it's in the blurb so not a spoiler). It's one of those books where I really want to shout at the characters for doing silly things (as obv's I know better how you go about covering up a murder).
---
Recently Finished
I managed to get myself back on track with my reading this week and finished three of the books on my TBR. First up was Yesterday by Felicia Yap which I'd received from NetGalley. I was really excited about this story set in an alternate reality where the majority of the population can't remember any further back than yesterday. I've always been fascinated by stories about memory and I liked the idea that this was building in a murder mystery. Unfortunately it didn't quite work for me and I found it a bit of a struggle. I almost gave up on it a few times but managed to stick with it and it did pick up towards the end. You can read my full review here.
The second book read was Maresi by Maria Turtschaninoff. I have to confess I hadn't heard of this book or even the author until I saw that she was coming to the Edinburgh Book Festival and doing a session with Alwyn Hamilton on strong female characters in YA. Needless to say I couldn't resist buying this, the first book in her Red Abbey trilogy.
It's a YA fantasy about a girl named Maresi who is a novice in the Red Abbey. The Red Abbey is a kind of sanctuary for girls and men are forbidden from setting foot on the Island where it's based. When a new novice arrives however she is pursued by the men who abused her and the Sisters and novices have to stand together against them.
It's a great story (albeit a little slow in the beginning), with a very strong feminist message but the real highlight for me was definitely the world building.
The third and final book finished was Skulduggery Pleasant by Derek Landy. Landy is another author I'm hoping to see at the book festival so I wanted to read at least one of his books and given I feel like I'm heading for a slump this seemed perfect. It's probably more middle grade (it's about a 12 year old girl who teams up with a sorcerer/detective/skeleton) but it's easy reading and really funny. I found myself giggling away as I was reading so I doubt this'll be the last book in the series I read.
---
Reading Next
This coming weekend I'm going to a few events at the book festival (have I mentioned that 🙂 ) so there are a few final books I'm hoping to squeeze in if I get a chance, The Boy on the Bridge by M.R. Carey and either The Fireman or NOS 4R2 by Joe Hill. I also managed to get my hands on ARCs of Charlotte Says by Alex Bell and Invictus by Ryan Graudin so may try to at least start one of them.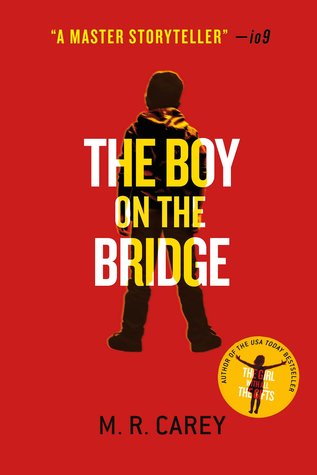 Have you read any of the books on my list this week? Any others you'd recommend? As always please feel free to leave comments and links below.
Happy Wednesday Everyone!!!