Happy Father's Day everyone!!!
I was originally planning to do a post on great father's in books but my list would probably not be that long (Atticus Finch and Arthur Weasley) as there are unfortunately way more books with bad dads than good ones. Instead I've decided to do a post highlighting the books and authors my Dad recommends.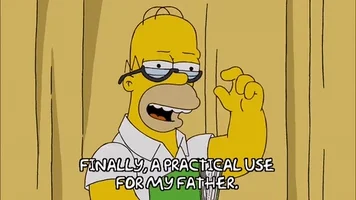 My Dad is a big reader and is to a large extent responsible for my book obsession. Like me he can quite happily sit with his head buried in a book all day long (something which drives my Mum nuts). Our tastes are a little bit different, he exclusively reads thrillers and murder mysteries, but he's definitely influenced my reading. So here's a list of the authors he has or is still trying to persuade me to read.
---
Ten Authors My Dad Recommends
The first three authors on the list are all Scottish authors and are actually three of my favourites too.
Stuart MacBride – probably most famous for his Logan Macrae series which follows a police detective on the murder squad in Aberdeen. They're a little bit gruesome and quite dark but there's a lot of humour too.
Chris Brookmyre – has written a few different series but the most famous is probably his Jack Parlabane books. These follow an investigative journalist who gets embroiled in murder mysteries, hacking, political espionage and all kinds of other cases. Personally my favourite series of his is the Angelique Xavier series.
Ian Rankin – most famous for his Rebus police detective series set in Edinburgh, this is probably one of the first authors my dad convinced me to read. This year is the 30th anniversary of Rebus so he's been in the murder business for quite a while.
The next three authors also have a Scottish connection but I have to confess so far Dad hasn't convinced me to read them yet.
Peter May – born and raised in Scotland he writes three main series, the Lewis trilogy, the China thrillers and the Enzo files. I actually own the Black House but I haven't had a chance to read as yet. We have family in Lewis so I know it well and think it will make a great setting for a mystery.
Ann Cleeves – OK technically she's English but she writes a murder mystery series set in the Shetlands so that's good enough. My Dad has been trying to persuade me to read her books for years but so far I haven't
Val McDermid – McDermid is another author who has been in the business for a long time and is most famous for her Tony Hill and Carol Jordan series about a criminal profiler Tony Hill who works with the police. This was turned into a TV show, Wire in the Blood, which I watched and loved so I have no idea why I haven't read the books.
The final four authors are a little more geographically spread (some are even outwith the UK 🙂 ) but the mystery/thriller trend continues (one of these day's I'll succeed in getting him to read a sci fi or fantasy)
Anyway, that's ten of the authors my Dad recommends. There are actually many, many more (Jeffrey Deaver, David Baldachi, James Patterson, Clive Cussler to name a few). I've read a few but still have so many to try.
---
Let's Chat
So let's chat, have you read any of these? Are there of my Dad's recommendations you agree that I really should read?
As my Dad is stuck in a little bit of a reading rut (honestly it's impossible to persuade him to try a new author) are there any books or authors you think I could persuade him to read?