The WWW Wednesday meme is currently hosted by Sam @ Taking on a World of Words and is a great way to do a weekly update on what you've been reading and what you have planned.

To take part all you have to do is answer the following three questions:
What are you currently reading?
What did you recently finish reading?
What do you think you'll read next?
---
Currently Reading
I'm kind of flipping between a couple of books at the moment because I can't really settle on any one. I think I've been trying to read too much and am feeling a little burnt out.
The first book I'm working my way through is book club pick, Anatomy of a Soldier by Harry Parker. Initially when I heard it was as story about a soldier who's injured by an exploding IED narrated through a series of objects I thought "oh no!!" but once I thought about it I really liked the idea and so far I am intrigued by it.
The other book I'm reading is Spandex in the City by Jenny T Colgan. This is the NetGalley ARC I can't resist picking up when Anatomy of a Soldier gets too serious and I need a bit of light relief. Jenny Colgan is one of my favourite authors but this is a bit different from her usual food related chick lit (which I must admit I was getting a bit fed up with). It's still kinda chick lit but with some superheroes and villains thrown into the mix. I've only read a few chapters but so far I'm loving it.
---
Recently Finished
Things calmed down a little bit at work this week and I had the long weekend so managed to fit in quite a bit of reading and finished 4 books.
The first of these was Legion by Julie Kagawa which I received from NetGalley. This is the fourth of five books in the Talon series and picked up where the previous book finished with a big giant cliffhanger. I have been really enjoying this series and this one was no exception. I did find this was maybe not quite as good as the previous book Soldier but I have a feeling it's building to a big conclusion in the final installment. I am both terrified and excited to read it. My full, spoiler free review can be found here.
The second book finished was another NetGalley ARC, Holiday in the Hamptons by Sarah Morgan. It's the fifth book in the From Manhattan with Love series but could easily be read as a standalone as each book tells a different characters story. I love Sarah Morgan stories and was very excited to receive this. It's a second chance romance about Fliss (who you'll know if you've read New York, Actually) and her ex husband Seth. It is a little on the predictable side but I still loved it. Morgan writes some great characters and there's always a real spark. It's not out for a few weeks so I'm holding off on my review for a bit.
Next book finished was Never, Never part 1 by Colleen Hoover and Tarryn Fisher. This was a re read to meet a task on a challenge so I'm not going to review.
Also this week I finished my audio book Into the Fire by Jeaniene Frost. It's the fifth and final book in the Night Prince series and while I think I enjoyed earlier books more this was still a great listen. It is a paranormal romance but to be perfectly honest it's the humour I love the most.
---
Reading Next
I think I'll probably be doing quite well if I finish the two books I'm currently reading but I'm off to see Patrick Ness in Edinburgh on Saturday so I'd really like to sneak in his new book Release which comes out tomorrow. If I have any more time I also want to read either A Dark so Deadly by Stuart MacBride or Flame in the Mist by Renee Ahdieh both of which are NetGalley ARCs.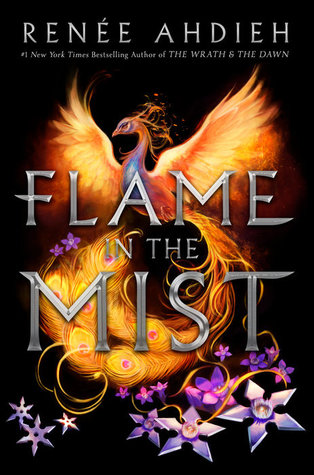 Have you read any of the books above or have any other book you'd recommend? Leave comments and links below and I'll respond when I can.
Happy Wednesday Everyone!!!