The WWW Wednesday meme is currently hosted by Sam @ Taking on a World of Words and is a great way to do a weekly update on what you've been reading and what you have planned.

To take part all you have to do is answer the following three questions:
What are you currently reading?
What did you recently finish reading?
What do you think you'll read next?
---
Currently Reading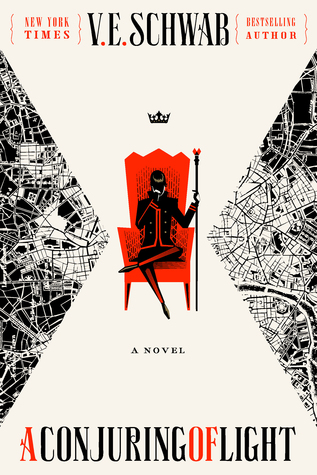 At long, long last I've finally made a start on reading A Conjuring of Light by V.E. Schwab. It's the third and final book in her Shades of Magic series and is a book I've been on the edge of the seat waiting for since the end of A Gathering of Shadows. I'm only around halfway through but so far it's not disappointing. There is something very readable and easy about Schwab's writing style and the Shades of Magic series has a few of my all time favourite characters. Even the ones I wasn't so sure about (Rhy) seem to be growing on me. I just don't want it to be over though.
---
Recently Finished
Slightly shorter list than last weeks with only three books finished. The first of which, Broken Prince  by Erin Watt, I think I'd actually finished by lunchtime last Wednesday. It's the second in Erin Watt's (aka duo Jen Frederick and Elle Kennedy) Royals series and is completely addictive reading. It's like an American soap opera with mean girls, rich bad boys, a bit of romance and a lot of drama. I have however decided that I was overdosing so taking a break before reading the third book.
On audio I finished listening to Once Burned by Jeaniene Frost. This was actually the second time I've listened to it but while I knew where it was going it was no less enjoyable.
The third and final book finished was The New Rules of Work by Alexandra Cavoulacos and Kathryn Minshew. It's not often I read a non fiction book but I spotted this on NetGalley and was kind of curious. I've been working in the same job for 11 years now so was interested to see what advice they had to give for someone stuck in a rut and thinking about a change. Have to say that I did find it incredibly useful. It's possibly one of the most comprehensive books I've come across and covers everything from working out what type of job would suit you, to how to get it and for those with a job they're happy with how to be more productive, communicate effectively and impress your boss so much you'll get a promotion.
There were a lot of things I already know but still some useful tips and tricks that I will be trying out.
---
Reading Next
I'm gradually making some progress on my NetGalley shelf so I think I'm going to keep at it and see if I can hit that elusive 80% feedback ratio (I'm currently at 75%). On that basis I think I'm planning on picking up either He Said/She Said by Erin Kelly or Paris for One and Other Stories by Jojo Moyes. I did however also pick up Harry Potter and the Cursed Child from the library so there's a fair chance I'll sneak that in somewhere too.
Have you read any of the books above or have any other book you'd recommend? Leave comments and links below and I'll respond when I can.
Happy Wednesday Everyone!!!