The WWW Wednesday meme is currently hosted by Sam @ Taking on a World of Words and is a great way to do a weekly update on what you've been reading and what you have planned.

To take part all you have to do is answer the following three questions:
What are you currently reading?
What did you recently finish reading?
What do you think you'll read next?
Here's this weeks WWW.
---
Currently Reading
I'm having to write this post on a Sunday at my parents house as my internet is down at home so I'm not 100% sure what I'll be reading by the time this is published but I'm going to assume it's The Breakdown by B.A. Paris. I received this from NetGalley and have been really looking forward to it but haven't had a chance to start it yet. I have to confess I haven't read the author's previous book, Behind Closed Doors, but it got some fantastic reviews so I have high hopes.
I'm still working my way through the audiobook of Catching Fire by Suzanne Collins. Not as much progress as I'd hoped as I've not been doing much driving (which is when I usually listen) but still enjoying revisiting this story.
---
Recently Finished
The first book finished this week was Traitor to the Throne by Alwyn Hamilton which I received from NetGalley. It's the sequel to Rebel of the Sands, which I read and really enjoyed last year, and I think may actually be better.
It is a lot lighter on the romance aspect and there is less of the desert (which was a little disappointing) but it's more than made up for by a story which seems to have a lot more direction and purpose.  It's absolutely packed with action but what I really loved was the intrigue. There are a lot of twists and turns and more than one surprise. I also loved the way the author did on occasion take a step out of the story and change the narrative to read more like a myth or legend. I'm hoping to get a full review up soon (internet permitting).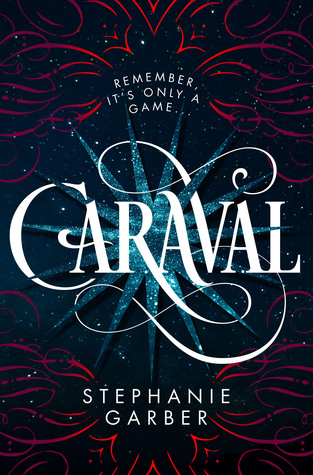 The next book finished this week was Caraval by Stephanie Garber. I usually try to rotate genres but when I received this in my book subscription box I couldn't resist starting almost immediately. The hardback is just sooo pretty.
Caraval was one of my most anticipated reads of the year and it didn't disappoint.There were a few niggles with certain aspects but the story is brilliant. It's absolutely packed full of magic and mystery and genuinely keeps you guessing about what's real and what's not from the beginning to the very end. Definitely worth a read.
---
Reading Next
Given my wandering off course at the weekend my reading next list is largely the same as last week with NetGalley ARCs Sweetpea by C.J. Skuse, The Best of Adam Sharp by Graeme Simsion and The Ninth Rain by Jen Williams at the top of the list. All very different so it'll probably depend what I'm in the mood for.
Have you read any of the books above or have any other book you'd recommend? Leave comments and links below and I'll respond when I can.
Happy Wednesday everyone.