The WWW Wednesday meme is currently hosted by Sam @ Taking on a World of Words and is a great way to do a weekly update on what you've been reading and what you have planned.

To take part all you have to do is answer the following three questions:
What are you currently reading?
What did you recently finish reading?
What do you think you'll read next?
Here's this weeks WWW.
---
Currently Reading
I'm in a bit of a guddle (Scottish word for mess) with my reading at the moment as I've kind of started two separate books but haven't made a lot of progress as I can't seem to focus on either of them through no fault of their own.
The first of these books is Behind Her Eyes by Sarah Pinborough which is a thriller I received from NetGalley. I tried to start this on Friday but my mind kept wandering and I just couldn't take anything in. Hopefully by the time this post is published (I'm writing this on Sunday) I will have gotten into it as it gets some great reviews.
The second book started and not
progressed very far is The Crown's Game by Evelyn Skye. This is a book I borrowed from the library via Overdrive so I am unfortunately on a deadline to read it as it will return itself in about 9 days. It doesn't help that I can't get the Overdrive app to work on my phone or tablet at the moment so I'm having to read on my laptop which limits how much reading I can actually manage (my laptop isn't that portable).
I have however managed to read a few chapters and discovered it's based in Russia in the 1800's which came as a bit of a shock (I really should read blurbs more carefully). I seem to be coming across a lot of Russian history books at the moment. Is anyone else finding this?
---
Recently Finished
It's been a bit of a rough week for me so not much progress this week. I've been working crazy hours, it snowed, and my cat decided that this was the perfect time to get in a fight with one of the other cats in the neighborhood resulting in a trip to the vet and a course of painkillers and antibiotics. He's been less than impressed with having to stay indoors for a few days and has been showing his displeasure by miaowing loudly and often (including through the night) and peeing on everything. Basically I seem to be permanently exhausted at the moment.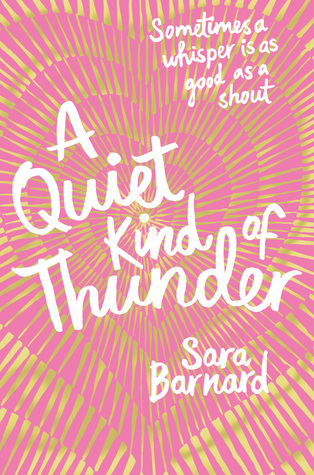 Anyway, despite these distractions I did manage to finish A Quiet Kind of Thunder by Sara Barnard which I had received from NetGalley and was around halfway through last week. It's about a girl who has been selectively mute for most of her life but is trying to find her voice and prove to her parents that she will be able to go to University and follow her dream.
I think the fact that I managed to finish this and really enjoyed it despite everything going on probably says the most about this book. I always think if you're stressed and tired but can still focus on a book and get completely immersed in the story it's good. It's actually a very sweet read that left me with a huge big smile on my face. There is a bit of romance but it's more a coming of age story.
As I ended up doing a bit more driving than usual this week I also managed to finish my audio book  The Hunger Games. Despite initial reservations about the narrator I've loved re discovering this book and all of the little differences from the film. Despite knowing the story I still cried at a certain point and I'm tempted to carry on through the series (although I still hate the narrator's Peeta).
---
Reading Next
I think I will probably be doing well if I manage to finish my current reads but if I do I think my next read will probably be The Breakdown by B.A. Paris although I'm not sure if I'm in the mood for a thriller. I think I may need something a little bit lighter. I do have a couple of CoHo's so maybe Confess or November 9
Hmm. Have just realised these all have very similar covers 🙂 Have you read any of the books above or have any other book you'd recommend? Leave comments and links below and I'll respond when I can. Unfortunately I'm still working a lot of hours at the moment so apologies in advance if I'm a little slow in replying and visiting everyone else's posts.
Happy Wednesday everyone.