The WWW Wednesday meme is currently hosted by Sam @ Taking on a World of Words and is a great way to do a weekly update on what you've been reading and what you have planned.

To take part all you have to do is answer the following three questions:
What are you currently reading?
What did you recently finish reading?
What do you think you'll read next?
Here's this weeks WWW.
---
Currently Reading
I just started The Girl Before by J.P. Delaney on Monday but seem to be making really good progress already despite not having much reading time between work and trying to get organised for Christmas. It's a psychological thriller I received from NetGalley and follows Jane who after a personal tragedy finds the perfect new home to rent. It's minimalist to the extreme and comes with a long and unusual list of rules to follow. It also turns out the previous tenant Emma met a mysterious death there. Can Jane avoid meeting the same fate?
Still fairly early days but so far so good.
---
Recently Finished
First book finished this week was Good Me, Bad Me by Ali Land. It's a dark psychological thriller I received from NetGalley about a 15 year old girl Annie who turns her serial killer mother into the police. She's placed into foster care with a family but in the run up to her mother's trial she's wondering whether she can really be a good person or if she has more in common with her mother than she thinks?
I absolutely loved this book and think it will almost definitely make my 2016 favorites list. I'll post a full review closer to release date.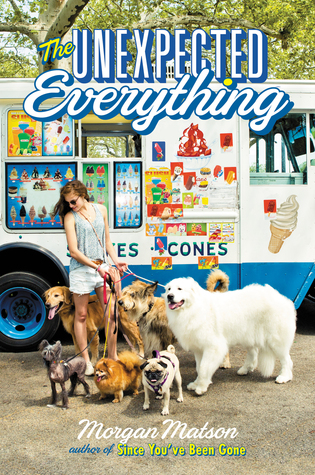 Second book finished was  The Unexpected Everything by Morgan Matson. It's a YA contemporary about a girl Andie who as a  congressman's daughter is a bit of a control freak. She has her whole life mapped out but when her father gets caught up in a scandal her plans for the summer fall apart and she ends up doing things she never expected, getting a job as a dog walker, spending time with her father and starting a relationship that may last more than 3 weeks.
I struggled to get into this book at the start as Andie kind of annoyed me. It was probably around the 30% mark before I really started to connect with it after which it got a lot better. I would still rate it as average rather than great as it was a bit on the long side but still a good read.
The final book read was The Diabolic by S.J. Kincaid. I spotted this in the library on Saturday (I swear no one ever goes into the YA section) and read the whole thing from cover to cover on Sunday. It's a YA science fiction about a girl Nemesis who was created in a lab and trained to kill without thought to protect one person, Sidonia, at all costs. When the family she serves falls foul of the Emperor, Sidonia is summoned to the galactic court as a hostage. To keep her safe Nemesis goes in her place, hiding her true identity.
It's not a particularly original story, it reminded me a lot of Red Queen and Red Rising but still a really enjoyable read and has the benefit of being a standalone which means no cliffhanger…yay!!
---
Reading Next
Still trying to work my way through some of the books I have sitting on my NetGalley shelf and hope to start Gone by Elisabeth Naughton or Behind her Eyes by Sarah Pinborough next. I did however manage to get It Ends With Us by Colleen Hoover from the library so I may divert from my plan as I've heard great things about it.
Have you read any of the books above or have any other book you'd recommend? Leave comments and links below.
Happy Wednesday everyone.