The WWW Wednesday meme is currently hosted by Sam @ Taking on a World of Words and is a great way to do a weekly update on what you've been reading and what you have planned.

To take part all you have to do is answer the following three questions:
What are you currently reading?
What did you recently finish reading?
What do you think you'll read next?
Here's this weeks WWW.
---
Currently Reading
I couldn't resist wandering off my reading plan this week and making a start on Good Me, Bad Me by Ali Land. It's a dark psychological thriller I received from NetGalley. The story is about a 15 year old girl Annie who turns her serial killer mother into the police. She's placed into foster care but is struggling to work out just what kind of person she is and whether she can go up against her mother in court.
It's being promoted as one of the most extraordinary debuts of 2017 and now that I'm around halfway through I'm starting to agree. I have a few little niggles with the writing style but it's addictive reading.
---
Recently Finished
Two books finished again this week. The first one was  His Bloody Project by Graeme Macrae Burnet. The story is about a 17 year old boy who murders three people in a small crofting community in the Scottish Highlands in 1869. It's told through a collection of different documents including witness statements, autopsy reports and newspaper articles covering the trial however the majority of the book is made up of the accused's memoir.
I really, really liked this book despite it being different from my usual type of read. It's not a fast paced thriller but reading all of the different perspectives around the same series of events is fascinating. It's a book I've been desperate to talk to someone about to see what they think really happened so I've been recommending all over the place.
The second book I read this week was Lyrebird by Cecelia Ahern. It's about a documentary crew who come across a woman in the mountains of West Cork. She's been living alone in a cottage for 10 years with almost no one knowing of her existence. When they discover that she has a unique talent for mimicry, they make her the subject of a documentary but will taking her away from her home open new doors for her or destroy her.
I think I read this whole book more or less in a day. It's definitely an interesting story and Ahern's writing is as always engaging. It does switch perspectives quite a lot which I found a little irritating and there were a few parts of the story I wasn't convinced on but overall an enjoyable read.
---
Reading Next
So I gave up all hope of reading The Redbreast by Jo Nesbo for book club so looks like I'm skipping this month's meeting. There are just too many tempting books sitting on my kindle. I think I'm going to try and read another couple of NetGalley books before the holidays. I managed to get Gone by Elisabeth Naughton and Behind her Eyes by Sarah Pinborough so I'm leaning towards one of them. I also still really want to read The Unexpected Everything by Morgan Matson.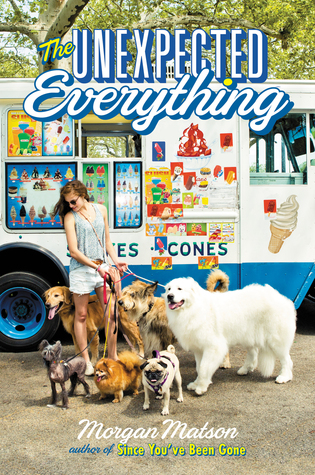 Have you read any of the books above or have any other book you'd recommend? Leave comments and links below.
Happy Wednesday everyone.