The WWW Wednesday meme is currently hosted by Sam @ Taking on a World of Words and is a great way to do a weekly update on what you've been reading and what you have planned.

To take part all you have to do is answer the following three questions:
What are you currently reading?
What did you recently finish reading?
What do you think you'll read next?
Here's this weeks WWW.
---
Currently Reading
I've been very indecisive about what to read at the moment but at the end of last week I decided to pick up His Bloody Project by Graeme Macrae Burnet. I'm not usually a fan of historic fiction but I have been known to make an exception for Scottish history and am really enjoying so far. The story is about a triple murder in a Scottish crofting community in 1869 and is in the form of a collection of documents from the time including witness statements and the memoir of the accused.
It's not a particularly fast paced story but it's fascinating reading about life back then and the characters are very well defined despite the unusual format.
---
Recently Finished
Two and a half books finished this week which is a definite improvement on last week's zero.
The first of these was The Trespasser by Tana French which I'd received as an ARC from NetGalley. It's the sixth book in the Dublin Murder Squad series and follows Detective Antoinette Conway and her investigation into the murder of a young woman.
I'm a big fan of Tana French and have loved pretty much all of her books but I think this could be one of my favourites. I think the success or otherwise of her books comes down to the narrator and Conway was a brilliant one in my opinion. I will hopefully get a full review up soon but it's definitely a book I would recommend even if you haven't read the earlier books in the series.
The next book finished was The Chemist by Stephenie Meyer which I managed to borrow from the library. It's about a scientist on the run after the secret Government department she was working for tried to kill her. When they contact her and offer her her freedom in exchange for one last job she decides to take a chance but all is not as it seems.
For the most part I found this an enjoyable read but I don't think there was anything that particularly stood out. A lot of it reminded me of Meyer's The Host (there are some very similar characters) but without the whole invasion of the body snatchers element there wasn't much unique about it. This wasn't helped by a slightly disappointing male lead and some insta love.
The final book, or half book as it was a novella, finished was Maybe Not by Colleen Hoover. Have to admit I haven't read Maybe Someday which this story is related to but I had a gap and was looking for something quick and easy to read. It was fine but again nothing particularly special. Had a couple of funny moments but like most novellas there wasn't enough for me to get invested in.
---
Reading Next
Still haven't started real life book club book The Redbreast by Jo Nesbo yet so it should be next on my list but I've managed to get hold of another couple of books I really want to read so there's a fair chance it won't be. I will definitely be picking up Lyrebird by Cecelia Ahern this weekend as it's a library book and due back and I think I may also try to fit in The Unexpected Everything by Morgan Matson.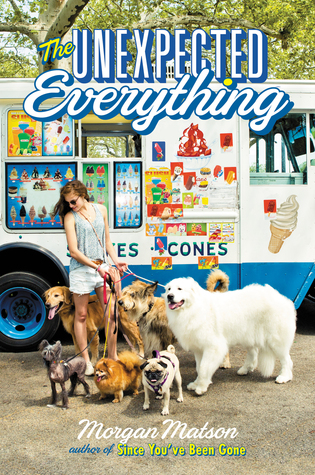 Have you read any of the books above or have any other book you'd recommend? Leave comments and links below.
Happy Wednesday everyone.