The WWW Wednesdays meme is currently hosted by Sam @ Taking on a World of Words and is a great way to do a weekly update on what you've been reading and what you have planned.

To take part all you have to do is answer the following three questions:
What are you currently reading?
What did you recently finish reading?
What do you think you'll read next?
Here's this weeks WWW.
---
Currently Reading
I'm around the 90% mark of The Great Gatsby by F. Scott Fitzgerald at the moment. I'm ashamed to admit I've never read this (and haven't even seen the film). My reading of the classics has been limited pretty much to the Bronte's, Jane Austen and Thomas Hardy so I've been meaning to broaden my range for a while.
I always find the language a bit of a struggle in classics (it takes me a while to get into the flow) but I have been very much enjoying the writing and the voice of the narrator.
---
Recently Finished
Finished three books this week, the first of which was A Long Way Down by Nick Hornby. It's about four people with very different backgrounds who meet on the roof of the tower block they've decided to commit suicide by jumping off. After a bit of an argument and some pizza they agree to wait a bit and see if they still want to kill themselves in a few weeks.
I still don't know what to make of this. It's well written and funny in places but there was just something a little bit uncomfortable about it. I don't think it helped that I only saw the film a few weeks ago as I ended up comparing and my image of the characters was very much influenced by the actors who played them.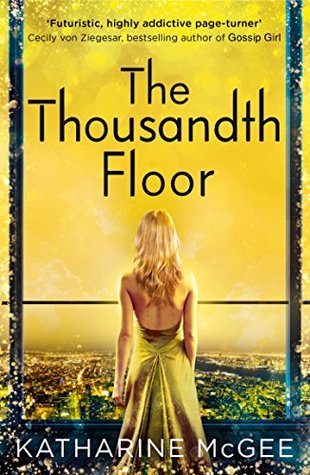 There was a bit of a theme this week as the second book finished, The Thousandth Floor by Katharine McGee, was also about someone falling off the top of a tower block. Although in this case the tower block was considerably higher.
It's described as a kind of futuristic Gossip Girl as it's set in Manhattan in 2118 and follows a group of privileged (and not so privileged) teenagers. There's back stabbing, romance, obsession, drug use and blackmail. I have to admit I love this kind of read so it was perfect for me and that ending was incredible. I'm planning to post a review later this week.
The final book finished was Repressed by Elisabeth Naughton which is a romantic suspense. I quite like Elisabeth Naughton but found this one a little bit too predictable, although maybe I've just read too many of them.
---
Reading Next
At the moment I feel like I'm pretty much just waiting on Empire of Storms by Sarah J Maas to be released on the 6th September. Although as I'm pretty much finished The Great Gatsby I do need to find something to tide me over.
I do have a decent haul of library books so will maybe pick up one of them. My most recent borrows are Echo Boy by Matt Haig and Longbourn by Jo Baker. I also still have Paige Toon's latest novel The One We Fell In Love With which I bought from Amazon and really want to read as soon as possible.
In semi related news I managed to get tickets today to see Sarah J Maas when she comes to Glasgow in October. I'm soooo excited!!!
Have you read any of the books above or have any other book you'd recommend? Leave comments and links below.
Happy Wednesday everyone.