The WWW Wednesdays meme is currently hosted by Sam @ Taking on a World of Words and is a great way to do a weekly update on what you've been reading and what you have planned.

To take part all you have to do is answer the following three questions:
What are you currently reading?
What did you recently finish reading?
What do you think you'll read next?
Here's this weeks WWW.
---
Currently Reading
Exciting news this week as, after languishing on my Reading Next list for the last 30 years (ok probably 6 weeks), I've finally made a start on A Long Way Down by Nick Hornby. I have to admit I haven't read much, only a few pages, but there is something instantly likeable about the writing style so I have high hopes despite a slightly uncomfortable plot line.
As A Long Way Down is a physical book (which I stole borrowed from my brother) I'm also reading ebook Repressed by Elisabeth Naughton which I got from Amazon a month or so ago. I generally find Elisabeth Naughton books to be pretty enjoyable and quick reads. Perfect if you're looking for a bit of romantic suspense (and who isn't??).
I'm between audio books at the moment as I can't find any that I particularly want to listen to so if anyone has any recommendations I'm open to suggestions.
---
Recently Finished
I had a look at my books read for this week and kind of gave myself a fright. I can't believe I finished 6 books. Things have been a bit quieter at work so I've had a little more free time which I think I've used to read pretty much non stop.

The first book finished was Stealing Snow by Danielle Paige which I received from NetGalley. It was a retelling of the Snow Queen which unfortunately despite having the bones of a really good read turned out to be a bit of a disappointment. The reviews of it are mixed so there are others who love it. I just felt it was a little too rushed and not enough time was spent on character development or world building. You can read my full review here
My second book read, Resistance is Futile by Jenny Colgan, was
something completely different. It's a science fiction/romance about a group of mathematicians brought together to solve a mysterious code that's been received from space. It turned out to be a lot different from what I was expecting and after a slightly shaky start I ended up loving it. It's quirky, cute and funny but has some really touching bits to it as well. Definitely one I'd recommend if you're looking for something unique and out of this world. Again, I've actually posted a review which you can read here
Following Jenny Colgan I went on a bit of a Jeaniene Frost reading binge. I finished the audio book I've been listening to for the past couple of weeks, The Beautiful Ashes and then made the fatal mistake of moving onto her Night Prince series. I had meant to just start Once Burned as my next audio book but things got a little bit out of control, obsessive compulsive reading kicked in and I read and/or listened to all three books in the series so far over the weekend. Oops!
---
Reading Next
I think I'm going to abandon my previous reading next plan as I've been on a mad book acquiring spree over the last week or so and have managed to pick up a few new ones which I desperately want to read right now.
From NetGalley I was really excited to get The Thousandth Floor by Katharine McGee. Not sure what appeals to me about this but it does. Maybe just been too long since I've read any YA dystopian. Also managed to get Faithful by Alice Hoffman. Have to admit haven't read any of her books so not sure if it'll be for me or not but the plot sounds interesting.
Amazon had a sale on (never good) so I bought Paige Toon's latest novel The One We Fell In Love With for 99p a couple of days ago. I love Paige Toon and it's been on my wish list for a while so I don't think I'll hold out long.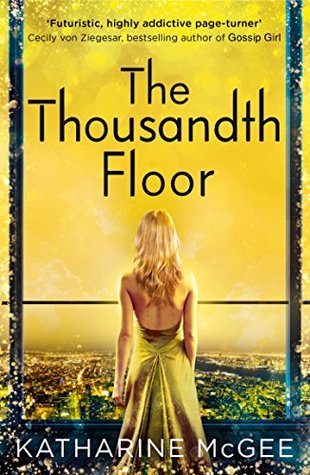 Have you read any of the books above or have any other book you'd recommend? Leave comments and links below.
Happy Wednesday everyone.