The WWW Wednesdays meme is currently hosted by Sam @ Taking on a World of Words and is a great way to do a weekly update on what you've been reading and what you have planned.

To take part all you have to do is answer the following three questions:
What are you currently reading?
What did you recently finish reading?
What do you think you'll read next?
Here's this weeks WWW.
---
Currently Reading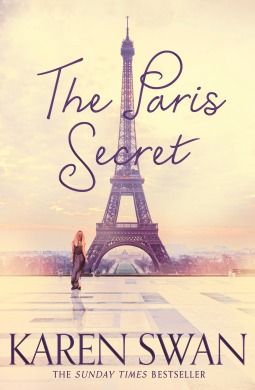 I'm currently reading The Paris Secret by Karen Swan, which is my latest NetGalley book. I'm a big fan of Karen Swan and absolutely loved Christmas at Tiffany's and Prima Donna so I'm excited to see what she does in her latest work. It's very early days for me (I think I'm at chapter 3) but I thought the first chapter was excellent and really hooked you into the story. From the blurb and reviews I'm expecting some art and antiques, secrets, exotic locations and a bit of romance. Basically the perfect summer read.
I'm also kind of listening to the audiobook of Lemony Snicket's A Series of Unfortunate Events. I say kind of because for some reason I just can't get into it and will probably abandon it. I'm missing the Night Huntress books so I think I need something similar if anyone has any suggestions.
---
Recently Finished
Things have been very busy at work at the moment so I haven't managed to read as much as I hoped. Only three books finished, none of which were particularly taxing reads.
The first one finished was Beautiful Disaster by Jamie McGuire, a new adult romance about a girl trying to escape her past who meets a boy with a bit of a temper and a bad reputation. It was an enjoyable read and something a bit different from what I was expecting but I kind of felt like the on/off thing went on a little bit too long. There were also a few things that were just a bit too convenient and contrived. It's good for what it is but I've read better.
Continuing my romance fest (when I'm stressed I turn to trashy novels) I also read Grinder by Samantha Whiskey. It's about a hockey player who after he's injured and his wife leaves him hires an old female friend to be the nanny for his daughter. Predictably enough there's a lot of chemistry between the player and the nanny but both have their reasons for not wanting to cross the line from friendship. It was an OK read but the plot was very predictable and I found the main female character's attitude annoying. Let's just say if you know from the start what the deal is you have no right to complain about it and emotionally blackmail someone to get what you want. Sorry getting a bit ranty 🙂
The final book finished this week was This Side of the Grave by Jeaniene Frost which I think is book 5 in the Night Huntress series. I had to switch from audio to ebook for this latest installment which is probably safer but a bit less fun. It was still an enjoyable read, just not as good as the previous one in the series in my opinion.
---
Reading Next
A Long Way Down by Nick Hornby and The Loney by Andrew Michael Hurley are probably at the top of my reading next list. The first because it fits a reading challenge I'm working on (and I've had it and wanted to read for a while) and the second because it's a library book I'm due to return imminently.
After those, or possibly before I'm also looking forward to reading Lying in Wait by Liz Nugent which I received from NetGalley. I've seen some really good reviews but was waiting to read until around the release date.
Have you read any of the books above or have any other book you'd recommend? Leave comments and links below. I'm a little slow in replying at the moment as work is manic but I'll get there eventually 🙂
Happy Wednesday everyone.