It's WWW Wednesday time.
The WWW Wednesdays meme is currently hosted by Sam @ Taking on a World of Words and is a great way to do a weekly update on what you've been reading and what you have planned.

To take part all you have to do is answer the following three questions:
What are you currently reading?
What did you recently finish reading?
What do you think you'll read next?
So here's my W's for the week.
---
Currently Reading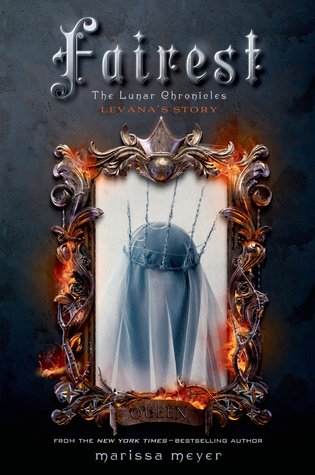 I've just started Fairest by Marissa Meyer. It's a short'ish book set in the world of the Lunar Chronicles series. I've read all of the other books in the series, including the novella prequel, and have loved pretty much every one. They're all based on fairy tales but set in the future and I love how the author works in the parts of the original story. Fairest gives the back story of the evil queen Levana so looking forward to finding out what made her so bad.
I've also started reading Not If I See You First by Eric Lindstrom. I requested this from NetGalley based on the blurb and reviews. It's another YA book but this time about a girl who is blind and so far pretty feisty. It's not the type of book I usually go for but so far so good (although I'm only about 10% in).
---
Recently Finished
Managed to finish two books this week, You and Me Always by Jill Mansell and  Monsters of Men by Patrick Ness.
I've always been a big fan of Jill Mansell books so was quite excited to receive You and Me, Always. It's sweet and romantic, with quite a few funny moments. I'd recommend if you're a fan of Jill or if you're looking for a quick light read but I have to admit it's not the most memorable of stories and a lot of it has been done before. You can see my full review here.
I only really finished Monsters of Men yesterday. It was the final book in the Chaos Walking trilogy so I'm a little bit sad that it's all over. I've enjoyed Patrick Ness's writing a lot. He has the most incredible imagination and he makes the most bizarre things (talking animals) completely believable and realistic. I don't think I've ever come across such fantastic world building. I'm probably going to need a bit of time before posting a proper review.
---
Reading Next
Unfortunately my list for reading next is pretty much the same as last week's as it took me a bit longer than expected to finish the books I was reading. This hasn't really been helped by me wandering off and reading Fairest 🙂 As soon as I finish my current books I plan on reading one or more of the ARC's (which aren't really ARC's anymore it's taken me so long to read them) The Masked City by Genevieve Cogman, Black Widow by Chris Brookmyre or What Would Lizzy Bennet Do? by Katie Oliver.
I also have Finding Audrey by Sophie Kinsella, which I got from the library and am kind of curious about. I'm a big Sophie Kinsella fan so am interested to read her take on YA. From what I've seen so far the reviews are a little mixed.
Again there's a fair chance I won't read any of these but something completely different. I'm a bit of a mood reader so find it difficult to plan.
Have you read any of the books above? Do you have any recommendations?