It's WWW Wednesday time.
The WWW Wednesdays meme is currently hosted by Sam @ Taking on a World of Words and is a great way to do a weekly update on what you've been reading and what you have planned.

To take part all you have to do is answer the following three questions:
What are you currently reading?
What did you recently finish reading?
What do you think you'll read next?
So here's my W's for the week.
---
Currently Reading
I'm working a lot of hours at the moment (January is always my busy time) so it's a bit of a struggle to get much reading done at the moment. I did however manage to start The Ask and the Answer by Patrick Ness at the weekend. It's the second in the Chaos Walking trilogy and I'm liking it a lot. It doesn't hurt that you get to hear the thoughts of the horse the main character Todd is riding (seems very true to me).
As The Ask and the Answer is a physical book and not particularly light I also have an ebook on the go. I'm trying to catch up on some of my ARC's so am reading My Kind of Wonderful by Jill Shalvis. Again, the second in the series although have to admit I haven't read the first. I'm enjoying it a lot more than I thought. It's a nice light read with quite a few laughs and a lot of romance.
---
Recently Finished
I finally managed to finish My True Love Gave to Me at the end of last week. It's a nice collection of holiday themed YA short stories. Don't know why it took me so long as for the most part I found them great reads (there were a few exceptions). Haven't had a chance to post a review yet but there should be one up over the next week.
After that I had a bit of a reading blitz over the weekend. I needed to wind down from a horrible week and the first proper snow of the winter had arrived so it seemed like a good excuse to just relax and read. I managed to read Playing with Fire by Tess Gerritsen on Friday night (may possibly have stayed up till 1am to finish). I do like Tess's writing and it was a quick enough read but I thought genre was a bit confused and there wasn't enough depth to the characters to make me feel what I should have.
Saturday's read of Knight and Stay by Kitty French was also a fairly good, light read. It was the second in the trilogy but kind of finished one of the storylines started in Knight and Play. I'm looking forward to reading the final book at some point over the next few weeks.
---
Reading Next
I think once I finish The Ask and the Answer I'll go on to read the final book in the series, Monsters of Men. There is no way I'll be able to stop until I know how it all ends. I tend to be a little bit obsessive when it comes to a series of books. I can't stop reading until I finish them all.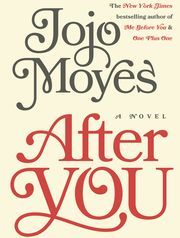 After that I'm planning to read After You by Jojo Moyes. I managed to find it in the library but gave it to my Mum to read first. She has finally returned it to me so I'm looking forward to getting stuck in. I loved Me Before You and Jojo Moyes is one of my favourite authors so I have high hopes. I just really hope I'm not disappointed (although my Mum says it's good).
I'm hoping this will be a good reading month. Have you read any of the books above? Do you have any recommendations?